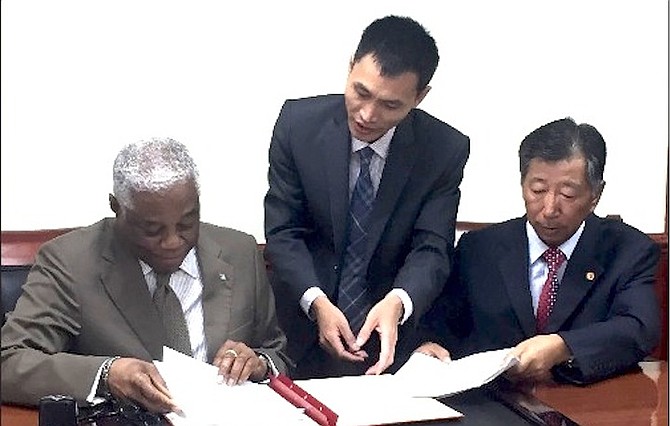 THE People's Republic Of China yesterday presented The Bahamas government with $1.2m to assist the Royal Bahamas Defence Force in enhancing its duties.
Minister of National Security Dr Bernard Nottage told reporters, as he received the "gift" from the Chinese government, that it was the result of discussions that happened last year where the RBDF was given the opportunity to list its needs.
The money will be used to purchase military equipment, including armoured vehicles, anti-riot grenade launchers and tear gas grenades, among other things.
He accepted the donation during a brief ceremony at the Ministry of National Security in the Churchill Building at Bay Street.
Dr Nottage said: "This is a gift of US$1.2 million for the defence force and the (RBDF) was given the opportunity to indicate what they would wish to assist in its development.
"So we have got a short-list here of 33 different types of items which include two armoured vehicles for the defence force, two 38 automatic anti-riot grenade launchers, 10,038 smoke tear gas grenades, anti-riot gear sets, (and) portable low-light level night vision goggles - 60 of those."
The RBDF's youth band, the Rangers, also will be outfitted with new instruments.
Chinese Ambassador to The Bahamas Yuan Guisen said the Chinese government was delighted to make the donation with a view to better enhancing the duties of the RBDF.