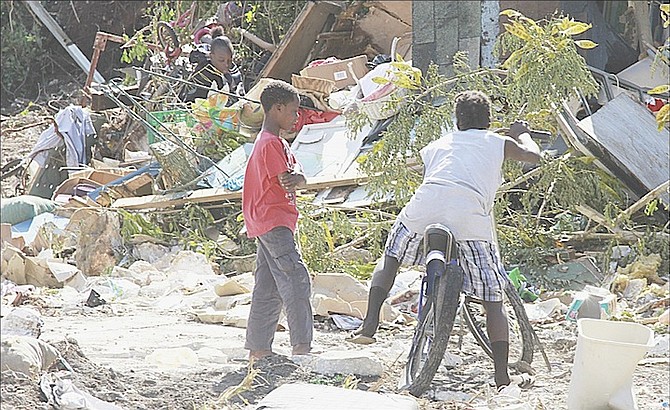 By NICO SCAVELLA
Tribune Staff Reporter
nscavella@tribunemedia.net
The managing director of a local outreach organisation is seeking legal action after last week's demolition of the group's Pine Barren Road property left dozens homeless.
Michael Bullard, ambassador of the Corral International Association (ACIA), plans to sue brothers William and Julian Fountain for their alleged roles in last Thursday's demolition in the Prince Charles area, which destroyed living quarters, four offices, three security booths and facilities that housed the organisation's Royal Diplomat Academy.
A number of farm animals, cats, birds and rabbits were also killed or injured as a result of the demolition, Mr Bullard said.
The property was home to 46 beneficiaries of ACIA, most of whom, Mr Bullard said, have had to seek lodging at motels until the Department of Social Services lends its assistance. 
When contacted for an update on Friday, Mr Bullard told The Tribune that his attorneys are now in the process of "setting us up to go back to court on Monday".
He added that they also want clarity over the long-standing dispute on who actually owns the property on Pine Barren Road.
Last Thursday, Mr Bullard stood by helplessly as bulldozers ripped through homes and other buildings erected on the property while various persons scrambled amidst the chaos in an attempt to salvage what little they could of their belongings.
The day after, William Fountain, of the Cash Fountain law firm, told The Tribune that the demolition was justified according to a court order dating back to May 9, 2014, which stipulated that ACIA was to vacate the property from August 10, 2014. 
Mr Fountain claimed that his family rightfully owns the land. 
However, Mr Bullard subsequently claimed that the court document which the legal letter referenced was only given to him recently by Warren Aranha, the alleged previous owner.
Furthermore, Mr Bullard claimed that Mr Aranha instructed the organisation to stay put since they had already made payments to him to acquire the land. 
In previous interviews, Mr Bullard claimed that when the group acquired the land from Mr Aranha, around eight years ago, he performed background checks on the land which revealed that it was "clear in title by the Bahamas government".