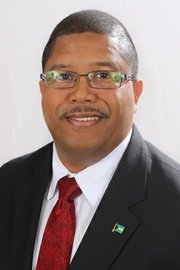 The threat of a Bahamas boycott by Florida-based air cargo operators was yesterday branded as "the unintended consequences of ill-thought out policy" by the Opposition's deputy leader.
K P Turnquest warned that as an import-dependent economy, reliant on international transportation links, the Bahamian economy could only suffer if freight companies reduced or eliminated services to this nation.
"At present, we depend on them to bring in perishables, fruit and flowers and the like, and 'just in time' kinds of material," the FNM's finance spokesman told Tribune Business.
"To the extent they actually reduce or don't provide the service, that's obviously going to have an effect on the products we can offer on the hotel and tourism side of the economy.
"It will have an obvious knock-on effect," he added. "In the short-term, it's going to have some adverse downstream effects if we're unable to find replacement cargo carriers.
"It's just another little knock back. The unintended consequences of plans and policies that were not well thought out or consulted upon.
"With this increased cost and increased bureaucracy that accompanies it, all the processing and Customs involvement, that whole model becomes questionable."
Mr Turnquest was speaking after Tribune Business exclusively revealed on Thursday how Florida-based air cargo companies are threatening to boycott the Bahamas over the new Customs fees and fines set to be introduced today.
This newspaper obtained correspondence which warns air cargo/freight companies to "be prepared to withhold your services" if it becomes necessary to force the Government to repeal changes that accompany the 2016-2017 Budget.
The letter, addressed to 'all carriers to the Bahamas', and copied to the many local couriers and import brokers they serve, warns that the potential liabilities from the new Customs penalties "are more than any reward our airlines can make".
Arguing that these sanctions could be imposed for infractions over which air cargo companies "have no control", the letter says the sector "cannot be held hostage by Bahamas Customs".
Then, suggesting a potential boycott of this nation as a last-ditch response if all else fails, it adds: "The Bahamas needs us as much as we need them."
In common with the ocean shipping industry, the cargo airlines are especially concerned about the changes to regulation 147 in the Customs Management (Amendment) Regulations.
This requires all cargo planes to submit their C7 general declaration forms to Customs, detailing all freight items they are bringing in, to Customs one hour before touching down in the Bahamas.
While this will incur a $75 processing fee, any C7s submitted less than an hour before arriving in the Bahamas will be subjected to a $2,500 charge.
Air cargo operators will be subjected to a $5,000 per item fine for every "prohibited or restricted good" found on board. A fine equivalent to 25 per cent of the value will also be incurred for every item not declared prior to landing in Nassau.
Mr Turnquest said the implementation of these penalties, and the manner in which it had been done, brought back memories of how the Christie administration undermined Freeport's logistics 'business model' with the fees introduced in the 2013-2014 Budget.
Besides increased attendance fees for Customs officers to come to an import/export business, the Government also introduced a 1 per cent 'processing fee' and environmental levy on goods brought into the Bahamas.
Recalling how these led to the demise of VTrade, the business created by former Chamber of Commerce chairman, Robert Myers, Mr Turnquest said: "It closed because of a similar kind of situation, where you had import processing and servicing fees imposed without consultation.
"This is the same kind of situation, and it goes against the whole value proposition. If you're increasing the cost of coming in and going out, you're going to put that business out of reach.
"We ought to be looking to reduce the cost and encourage big freight companies to come into town and create jobs for the economy."
The letter seen by Tribune Business confirmed that the new regulations threaten to undermine the business model for air cargo operators, especially those hired for specific charters, who relied on quick turnaround times after landing in the Bahamas.
"A side effect, which is just as crippling as the financial, is that the general declaration will not be stamped until the cargo has been inspected," the letter said.
"This is deadly, as there are times Customs takes three to four hours to clear our flight. My aircraft are scheduled with a 30 minute turn time to meet the requirements of our other clients."