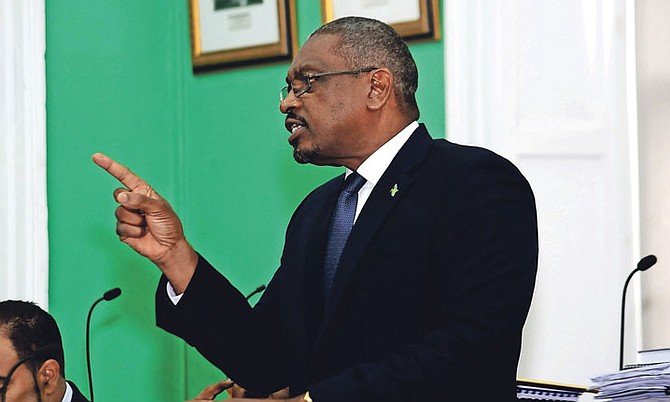 By KHRISNA VIRGIL
Tribune Staff Reporter
kvirgil@tribunemedia.net
FREE National Movement Leader Dr Hubert Minnis has suggested that his "close and personal" relationship with the FNM's more than 400 delegates places him in a position to, for a third time, be elected as head of the opposition party.
However, he skirted around the question of whether he would still work with the six members of Parliament who threatened to have him removed as leader of the Official Opposition in Parliament by way of a petition to Governor General Dame Marguerite if he did not convene a conclave to decide the date of an early convention.
"(If I remain leader) we will be focused on unifying the party and the country to take it in the right direction," Dr Minnis insisted yesterday when he was pressed on the future of his relationship with the MPs following the three-day convention at the end of the month.
The Killarney MP seemed confident when asked of his support from delegates, as they are currently being courted in the lead up to the July 27 - 29 event. He said his work over the last four years has proven to FNMs with voting power in the convention that he has the ability to lead.
"I have spent the last four years travelling throughout the length and breadth of this country building a personal relationship with Bahamians in the Family Islands," he told The Tribune.

"So when whomever are selected, they would know my views and they would know I preach that this is the people's time and what my focuses are. I have focused heavily on ownership opportunities, land reform and the need to strengthen local government.
"Those on the islands would know I have said we need to stop being so Nassau centric and ensure students there are given their fair share of scholarships. I have said this will happen in addition to giving them stipends and easier access to obtaining an education at the College of the Bahamas."
He added: "They know me personally. My relationship with the delegates is a close one."
Dr Minnis and FNM Deputy Leader Peter Turnquest will go head-to-head against Long Island MP Loretta Butler-Turner and Senator Duane Sands during the party's upcoming convention.
Dr Minnis has previously said he has no doubts that he will remain at the organisation's helm. Mr Turnquest has also said he is not concerned about the challenge from the mortician and surgeon duo.
Last month, while making his contribution to the 2016/2017 budget debate, Dr Minnis stressed: "We are now preparing for a convention and I will enter as leader and I will emerge as leader of the Free National Movement."
Former Deputy Prime Minister Brent Symonette has warned Dr Minnis that it would be a mistake for him to block the nominations of the "gang of six" MPs if he successfully defends his post.
In a previous interview with The Tribune, Mr Symonette said Dr Minnis should be careful with his campaign strategy of playing the "victim" as he emphasised the value of retaining experienced politicians.
He pointed out that the dissenting MPs represented the party's brand in Parliament, adding that the days of a "one-man" platform have passed.
"I think Dr Minnis' campaign so far has been about being a victim," Mr Symonette said on June 26. "He's showing an 'I'm from Bain Town' type of approach. There's nothing wrong with that but if you look at public disclosures, he's the richest FNM MP in Parliament. You can't claim that and live in a gated condominium that you own, you have to be very careful playing that issue.
"He's saying the MPs have revolted against him; well the MPs have tried to talk this matter through for a long time and it hasn't worked. You know what they say, there are three sides to every story."
Mr Symonette added: "I think the days of the one-man (band) has passed and it is a team concept that the electorate wants to see. You see it around the world. The Bahamas really needs to put forward a team that shows a good ability to govern."
Dr Minnis' stint as leader of the FNM has been marked by infighting.
Most recently, The Tribune exclusively reported on an email in which Central Grand Bahama MP Neko Grant was critical of Dr Minnis' performance during the wrap up of the 2016/2017 budget debate. He said the Killarney MP showed "no interest" in the head-by-head exercise and seemed unprepared. The email was sent to the party leader and other members of the FNM.
Mr Grant, leader of opposition business in the House, said he was sure Dr Minnis had not studied the budget and that his behaviour was "most disturbing" and "disrespectful".
Mr Grant's attack on Dr Minnis also comes weeks after the "gang of six" MPs, including Mr Grant, wrote a letter to the party's Central Council outlining Dr Minnis' weaknesses as a leader.
St Anne's MP Hubert Chipman, Montagu MP Richard Lightbourn, North Eleuthera MP Theo Neilly, Mr Grant, Mrs Butler-Turner, and Fort Charlotte MP Andre Rollins were dubbed the "gang of six" after they threatened to have Dr Minnis removed as leader of the opposition in Parliament.
Both Mr Grant and Mr Lightbourn last week said they support Mrs Butler-Turner and Senator Sands in the leadership race.