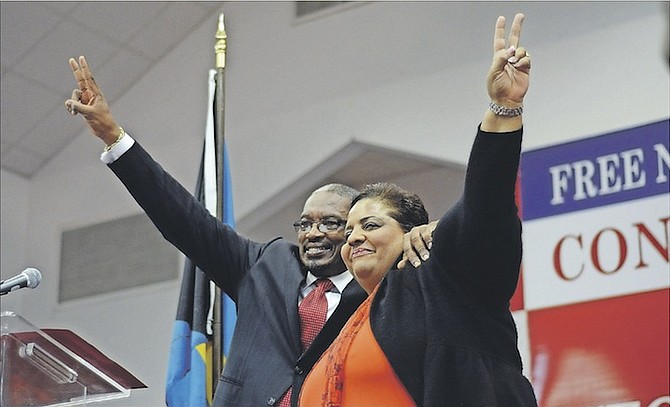 By KHRISNA VIRGIL
Tribune Staff Reporter
kvirgil@tribunemedia.net
WITH three weeks until FNM Leader Dr Hubert Minnis faces off against Long Island MP Loretta Butler-Turner in the party's leadership race, both will launch their campaigns tonight.
Dr Minnis' "Roc wit Doc" event will take place at Christie Park at 7.30pm, while Mrs Butler-Turner's 'Forward-Together' kick off is slated for Rawson Square at 7pm.
This clash in event scheduling has ignited discourse centred on the alleged campaign tactics the teams are using to win a victory.
Speaking on the condition of anonymity, one FNM told The Tribune that to hold both events on the same night would no doubt hurt supporters' and delegates' chances of fairly judging the leadership contenders.
"The Butler and Sands team announced a week ago that they were going to be launching on Wednesday," the insider said. "It was a surprise to see that Dr Minnis would launch his campaign the same day. However, I am sure this was not coincidental.
"One can clearly see that this was his way of attempting to score a knock out punch to their team. But this is about the FNM showcasing its talents. It should not be about the Minnis team against the Butler team and portraying them as enemies. It will no doubt have a bearing on everyone's ability to see separately and judge them based on what they individually bring to the table.
"The theme should be that we are better than the Progressive Liberal Party. With both launch events at the same time no team will be able to get the turn out they should, which will still in the end embolden the PLP. I don't see this as beneficial."
However, another insider said this was a "smart" move on the part of the leader, who is said to be a tactical politician with a special affinity for connecting with supporters behind the scenes.
"If anyone will try to see this for what it is like me, they would see that this is genius on Minnis' part. We are talking about a man and a leader although criticised the majority of the time, for his leadership ability, has a special way with supporters and delegates.
"To have his event on the same night as Loretta will show that he can pull a better crowd and by extension more delegates."
Mrs Butler-Turner last week formally announced her intent to challenge Dr Minnis when the organisation has its three-day convention on July 27 to 29. Speaking to reporters last Wednesday, she said she and running mate Dr Duane Sands, who is vying for deputy leader, would unveil their platform tonight.
At the time of her announcement, she said the party, now more than ever, needed to be driven by leaders and doers.
She also declared that she and Senator Sands will make the "strongest team" to not only contest the top two leadership posts of the FNM, but to turn the country around.
Despite her confidence, Dr Minnis has said on several occasions that he is sure that he will be re-elected to the party's top post for a third time.
On Sunday, he told The Tribune this is because of his "close and personal" relationship with the majority of the party's delegates.
The leadership battle comes at a delicate time for the FNM.
The party's Central Council voted to have a July convention after six parliamentarians, including Mrs Butler-Turner, threatened to seek Dr Minnis' removal as leader of the Official Opposition in the House of Assembly.
Dr Minnis' tenure as leader has been defined by intra-party friction, creating fractures in the party.
Nonetheless, when he was challenged in 2014, he defeated Mrs Butler-Turner by three to one.
Dr Sands also ran for the deputy leader post in 2014 and lost that bid.
Attempts to reach Dr Minnis and Mrs Butler-Turner for comment yesterday were unsuccessful.