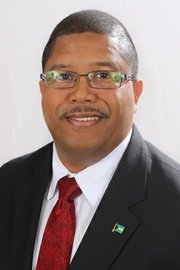 The Bahamian people "should be mad as hell" with both the PLP and FNM for placing the country in a position where it is being threatened with a downgrade to 'junk' status, the Democratic National Alliance's (DNA) leader has charged.
Branville McCartney told Tribune Business that bad policy and governance, combined with fiscal profligacy, on the part of both rival parties had resulted in the Bahamas' direct debt-to-GDP ratio 'doubling' in less than a decade.
"We should be furious, as a people, with both the PLP and FNM," Mr McCartney said. "In 2007, when the FNM came into power then, we were running at 30 per cent debt-to-GDP. In 2016, it's up over 60 per cent.
"We cannot fully blame the PLP with respect to the debt; both are to blame. We should be mad as hell with both of them for putting us in this position."
Research by Tribune Business, using official government data, shows that the last Ingraham administration ran up a collective $1.5 billion in deficit spending over the five years it was in office between 2007 and 2012.
The former government argued that it had little choice but to incur deficits that peaked at $445 million in 2011-2012, as its term in office coincided with the 2008-2009 recession and its aftermath. As a result, it had to engage in counter-cyclical public spending to try and maintain employment and economic activity, while also incurring higher social security-related demands.
However, the Ingraham administration's deficit spending was exceeded by the Christie government during its first three years in office at $1.6 billion.
The Central Bank's 2015 annual report showed that the Bahamas' national debt had increased from $5.003 billion at year-end 2012 to $6.638 billion at end-December 2015, a rise of some $1.635 billion in just three years under the Christie administration.
The statistics show that between them, the Christie and Ingraham administrations have added more than $3.1 billion to the national debt within eight years. And almost half of the national debt incurred since the Bahamas' independence 43 years ago has been accumulated within the past decade.
Mr McCartney, meanwhile, suggested that he would remove the Government's current fiscal advisers should the DNA be elected to office.
"Why is the Government not getting the best financial advice," he asked. "The people giving advice now gave fiscal advice under the FNM.
"We must make sure we get the best financial minds, whether internal or otherwise. We've got persons here whose net worth could almost pay off our national debt.
"Why aren't we talking to the best minds and international persons to get us out of debt. The people advising on our finances need to go, and we need to put the best financial minds in there to make sure we get our country back on track."
Both Mr McCartney and K P Turnquest, the FNM's finance spokesman, said they did not envy the task facing Michael Halkitis, minister of state for finance, in trying to convince Moody's not to further downgrade the Bahamas' sovereign creditworthiness.
"The good minister of state is a smart man," the DNA leader added. "I think his hands are tied. He knows what the deal is, but he's been placed in a box."
He said Mr Halkitis's remark that the Government would "plead its case" to Moody's was the only thing that he could say in the circumstances.
Mr Turnquest, meanwhile, said he was "rooting" for the Government to succeed when Moody's representatives visited the Bahamas later this month to conduct their annual economic and fiscal assessment.
"I wouldn't want to sit at Mr Halkitis's desk right now, as the Government will have a hard job convincing the rating agencies that their projections will hold water, given the fiscal realities and given that there has been no real progress on Baha Mar," he added.
"It's a tough sell; let's hope they succeed for all our benefits. They're very much between a rock and a hard place. We are at risk, and hopefully the Government will be able to put forward a credible plan that the rating agencies will be able to buy into.
"No one wants to see a downgrade. It's not in anybody's interests. As the Opposition, we are rooting for the Government's success in being able to give adequate, satisfactory explanations, even as we know we have to engage in significant discussions and structural reforms to turn this thing around and take control of our destiny again."