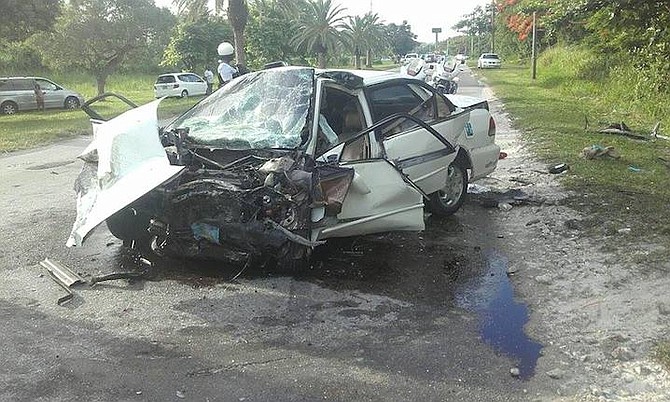 By SANCHESKA BROWN
Tribune Staff Reporter
sbrown@tribunemedia.net
A MAN in his twenties is dead and two others are in serious condition in hospital after a head-on collision early on Thursday morning.
The fatal traffic accident took place shortly after 7am on Tonique Williams Darling Highway and police suggest that speed was a "significant factor" in the crash and that none of the victims were wearing seatbelts.
Superintendent Craig Stubbs, head of the Traffic Division, said the accident involved a white 2002 Honda Accord and a black 2004 Honda Coupe.
"The 2002 Accord was travelling west on Tonique Williams Darling, near Christie Avenue, and the black 2004 Coupe was travelling east when for unknown reasons the black vehicle entered the westbound traffic lane and collided with the white Honda Accord," Supt Stubbs said.
"The driver of the black vehicle was attended to by EMS personnel on the scene but was pronounced dead. The driver of the Accord was taken to hospital in very serious condition with significant damage to his legs and upper torso.
"The passenger of the black vehicle was also rushed to hospital with significant trauma to the upper body, legs, arms, and face. He is also listed as serious."
Supt Stubbs said from the physical evidence gathered at the scene, it is evident that speed played a significant factor in the crash. He also noted that none of the three victims were wearing a seatbelt.
"We continue to advise members of the public to obey the speed limit when they are travelling," Supt Stubbs said.
"The majority of the accidents in the country, we have noted that speed plays an important factor. So we are asking for members of the public to obey the speed limit when they are travelling. We are also asking members of the public to stop using their cell phone and texting while driving, while speeding, this is an issue we are faced with daily.
"On this upcoming holiday, we are pleading with motorists to exercise extreme caution when driving. Also, if you need to be to work for 7am, leave home an hour early instead of speeding and rushing."
Supt Stubbs said police are having trouble identifying the victim because he had no identification on him and also because the vehicle was registered in another person's name.
"It seems the car was sold to one individual and it was still registered in the original owner's name until April and then that person seemed to have sold the car again and the registration did not change. The car was also not insured. This is another issue we seem to be experiencing a lot lately."
He said the deceased is believed to be in his early twenties.
Investigations continue.