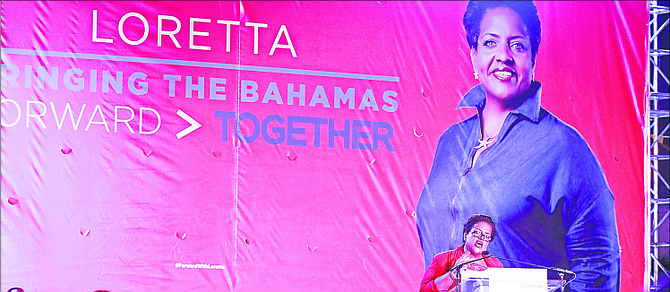 By KHRISNA VIRGIL
Deputy Chief Reporter
kvirgil@tribunemedia.net
LONG Island MP Loretta Butler-Turner yesterday said the number of those attending the two Free National Movement leadership campaign launches does not matter because the decision of who will ascend to the party's top post comes down to its 410 delegates.
The MP, who is rivaling FNM leader Dr
Hubert Minnis for the second time, went on to defend the format of her "Forward-Together" launch insisting that in planning she was keen on refusing to take a page from the Progressive Liberal Party's book, with its reputation of giving voters a party.
She explained that her Rawson Square rally was heavy on ideas and facts to deliver a "sobering" view of the state of the nation and to raise the standards of events of this kind.
The event did not capitalise on complimentary refreshments or live entertainment. In contrast, Dr Minnis' "Roc wit Doc" event followed the status quo regarding rallies with a live performance and Junkanoo rush out.
The day after both she and Dr Minnis kicked off their separate campaigns, discussions were centred on which event attracted more of a crowd.
The Tribune estimated that at least 400 people flocked to "Roc wit Doc" at Christie Park, however organisers of that event have claimed it was more like 1,000. Pundits have attempted to tie the crowd size at both events to the outcome of the FNM's convention at the end of the month.
To do this is premature, insisted deputy leader hopeful Senator Dr Duane Sands, who is Mrs Butler-Turner's running mate.
"Bear in mind that this is really about the delegates," he said yesterday.
"What we have learned is that numbers don't tell the full story. If you remember Red Splash we almost sunk Montagu Beach but yet we didn't win the 2012 general election.
"So if you are trying to determine based on the number of people standing you do that at your own peril. We were gratified by the support and numbers of people out there."
Mrs Butler-Turner added: "I don't think either events had overwhelming delegate numbers."
"One must realise that I am the contender and I think the leader is the one who has to prove that he has sway and is able to maintain it. Hence why there was the Junkanoo and party atmosphere.
"I didn't think we needed to do that. I wanted to tackle the serious issues. It clearly speaks to where we are right now. I think we need to look at the message and the dissemination of the message. That is why I employed 21st century media."
"Forward-Together" was streamed live on Facebook.
Mrs Butler-Turner said analytical data gathered by Facebook recorded more than 1,000 views and 892 comments.
In addition, taking into account users who shared, commented, liked and watched the event, there was a total reach of 226,000 people, she said.
She called this the achievement of something unprecedented in the country.
"In terms of the physical presence that is one thing, but we had hundreds locked in. Beyond the physical presence we needed to reach people virtually. I had a sober message that tackled the hot button topics. That is the way of things of this nature."
During his rally, Dr Minnis made a plea for party unity.
The Over-the-Hill event saw his team emphasise his "rags to riches" biography, the centrepiece of his pitch to Bahamians and FNM delegates as he seeks to defeat Mrs Butler-Turner at the party's convention on July 27 to 29 and gather momentum ahead of the next general election.
His campaign slogan that appeared on posters bearing Dr Minnis' name was, accordingly, "The people's time."
"This is the time for me to give the power back to the people," Dr Minnis said to cheers from the crowd. "This campaign is all about you."
In a speech frequently interrupted with songs designed to emphasise his statements, Dr Minnis listed a litany of proposals he would implement if elected prime minister.
These included such vague proposals as "land reform to ensure Bahamians have an opportunity to own land in this country" to more explicit ones like the alleviation of value added tax (VAT) on a variety of goods and services.
He said he would introduce a national "solarisation programme that would result in decreasing electricity costs and increasing your disposable income."
Absent from his speech, however, were any cutting remarks about his rival, Mrs Butler-Turner, and the FNM officials who have been critical of his leadership.
Some notable people who supported Dr Minnis at his campaign launch included FNM Senator Carl Bethel and the party's Secretary General Michael Foulkes. Progressive Liberal Party MP for Tall Pines Leslie Miller also attended the event and was greeted by loud cheers as he made his way to the front of the rally area.
Mrs Butler-Turner was supported by several current FNM members of Parliament as well as former Cabinet ministers, including former FNM Leader Tommy Turnquest, Central Grand Bahama MP Neko Grant, St Anne's MP Hubert Chipman, former Deputy Prime Minister Frank Watson, former House Speaker Alvin Smith, former FNM Chairman Darron Cash, Senator Monique Gomez, former Senator Heather Hunt, former Senate President Lynn Holowesko and former Garden Hills MP Brensil Rolle.