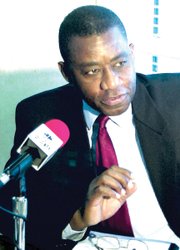 There is "no way" that Moody's can cut the Bahamas to 'junk' status because it is still meeting all its debt obligations as they become due, a former finance minister argued yesterday.
James Smith told Tribune Business his only "problem" with the rating agency's threat to downgrade the Bahamas was that it 'left the door' open to a loss of this nation's investment grade status.
He argued that the Bahamas was "a long way" from such a position, given that it always been able to meet its debt obligations - and would continue to do so into the foreseeable future.
Mr Smith said a cut to so-called 'junk' status was only warranted if a country was unable to pay its debt as it became due, and the Bahamas was "still not in that position yet".
Seeking to clarify his position on Moody's threatened downgrade of the Bahamas' sovereign creditworthiness, Mr Smith conceded that the country's economic and growth performance had been "bad".
Yet he said the New York-based rating agency also needed to account for the Bahamas' credible track record, which showed it had not been forced to seek International Monetary Fund (IMF), or initiate a 'fire sale' of public assets, during 43 years of independence.
"I don't have a problem with their past analyses or even the series of downgrades," Mr Smith told Tribune Business. "My problem is a downgrade that cuts the position to 'junk'."
Moody's left open this possibility in Friday's announcement of its two-month review of the Bahamas' sovereign creditworthiness, saying that a downgrade might cut this nation's rating by "one or more notches".
A two-notch slash would take the Bahamas to 'junk' status, costing this nation its investment grade rating, and sending a profoundly negative message to the international capital markets and both Bahamian and foreign investors.
Mr Smith, though, argued that it would be illogical for Moody's to initiate a 'junk' downgrade, as it was akin to saying "that the Government will be unable to meet its debt obligations as they come true".
Pointing out that such an action would also rate the Bahamas below the likes of Barbados and Jamaica, both of which have much more significant debt mountains and fiscal problems, he told Tribune Business: "No way in the Bahamas at this time can you reach that conclusion.
"If you're telling me that I can't meet my debt obligations, I have a real problem with that."
Mr Smith said there were "many reasons" why 'junk' status for the Bahamas was not warranted, beginning with the Government's debt servicing ratio.
For the 2016-2017 Budget, the Government is forecasting it will spend $271.735 million on paying interest (debt servicing) costs, with another $281.081 million going towards repaying debt principal as it matures.
The collective $582.816 million in debt-related spending, Mr Smith said, amounted to just 25.8 per cent of the Government's budgeted $2.263 billion in spending for the new fiscal year.
He compared this to the 40 per cent debt servicing ratio adhered to by bank loan officers when assessing a potential borrower's creditworthiness, and said the Government's was "half that amount".
And, should the Government find "its back against the wall" at some stage, Mr Smith said it owned a considerable portfolio of economic and infrastructure assets that could be sold to generate cash.
"There are areas the Government has yet to touch in terms of outsourcing and privatisation," he told Tribune Business, citing its 49 per cent equity stake in the Bahamas Telecommunications Company (BTC) as an example.
BTC continues to generate profits of around $40 million per year, and Mr Smith said other revenue-generating assets included the likes of the Paradise Island Bridge.
"You don't see an asset register because the Government doesn't have a balance sheet," the former finance minister and Central Bank governor added.
"But for these reasons, any objective analysis would find the Government is a long way from not being able to meet their debt obligations."
Mr Smith further echoed the Christie administration's rationale for why a downgrade was not warranted, explaining that the composition of the Bahamas' $6.6 billion national debt was key.
He said the maturities/redemptions for the Government's various bond issues were spread out over the medium and long-term, meaning the Bahamas would not be faced with having to finance massive nine-figure repayments at any one time.
And just $1.733 billion, or around 25 per cent, of the national debt is held by foreign investors. The majority is owned by Bahamas-based institutions, such as the National Insurance Board (NIB), Central Bank and commercial banking industry.
This favourable debt profile, Mr Smith explained, would enable the Bahamas to reschedule or restructure the bulk of its debt as a last-resort option, should this become necessary.
"We're a long way from not being able to meet our debt obligations," Mr Smith told Tribune Business.
"We've never been forced into a position of reliance on things like sales of assets, restructuring or outsourcing. Good or bad, we've never been forced to make any real draconian changes in policy. We're still not at that point yet."
As a result, Mr Smith said it was impossible for Moody's to cut the Bahamas' sovereign creditworthiness to 'junk'.
"I'm saying these guys can't say that," he argued. "If they do, we'll have to look elsewhere. That's the point I'm making. It's not a threat to them.
"It's not a downgrade; it's the 'junk' status. There's no way in my estimation, and in many other people's estimation, that the Bahamas can be 'junk', and Barbados and Jamaica can't."
Mr Smith agreed with Moody's analysis that the Bahamas' economic performance had been "really bad", but added that this was partly explained by the world economy's uneven outturn, which impacts the external forces affecting this nation.
"To say the performance is bad and that we have to get some growth in here, I have no problem with that," he told Tribune Business.
"But the bottom line is that we're nowhere near that sort of thing 'junk' status, and they ought to know that."