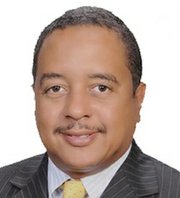 Trying the $1.1 million damages claim against Jamie Dingman's failed Nassau restaurant empire in New York will be "a waste of judicial resources", a former Cabinet minister is arguing.
Damian Gomez QC, former minister of state for legal affairs, has warned the New York courts that the case against Mr Dingman and his five restaurant brands will subsequently have to be tried in the Bahamas should it proceed to hear the matter.
This, he alleges, is because any judgment rendered by the southern New York district court against Mr Dingman and the companies will be "unenforceable" in the Bahamas without approval from this nation's judicial system.
Mr Gomez's arguments, laid out in a June 23, 2016, affidavit, are being employed by Mr Dingman and his US attorneys to strengthen their case that the New York action should be dismissed because the Bahamas is the best jurisdiction to hear the allegations.
They are also arguing that the Bahamian court system is "less congested" than its New York counterpart, and it has "a more significant interest" given that the claims all relate to this nation's laws.
"Under the Reciprocal Enforcement of Judgments Act, judgments of a court in the US did not qualify for registration in the Bahamas," Mr Gomez alleged in his affidavit.
"Therefore, an American judgment is unenforceable in the Bahamas without further judicial action."
Mr Gomez said it was possible the Supreme Court may not recognise any US judgment against Mr Dingman and his companies because they were all Bahamian-domiciled, and contesting the New York court's jurisdiction over them.
"Therefore, it would be a waste of judicial resources to have this case heard twice; first in the US, and then again in the Bahamas," the ex-Cabinet minister alleged.
Battles over whether the Bahamian, or US, judicial systems are best-suited and the most appropriate forums to determine major legal cases appear to be increasing in both frequency and intensity.
Apart from the fight over Baha Mar's Chapter 11 bankruptcy protection bid, the arguments raised in Mr Dingman's case mirror those cited by Canadian fashion designer, Peter Nygard, in his war with neighbour Louis Bacon.
Mr Nygard is arguing that Mr Bacon's $50 million defamation case against him should be dismissed by the New York State Supreme Court and instead re-filed in the Bahamas, given that the relevant witnesses and documents are located here.
Mr Dingman, son of world-famous Lyford Cay-based entrepreneur, Michael, is fighting a variety of claims from Bahamian creditors and former friends/partners who were enticed to invest in his fledgling restaurant empire.
The Bahamian companies involved as plaintiffs against Mr Dingman are Wulff Road-based FYP and Tile King, the People First (Bahamas) employment agency, IDNet, and Young Digerati (YNG).
The first four are claiming outstanding sums for services they provided to the restaurants, while the latter is alleging it is $2,500 'out of pocket' after it was unable to hold a function at one of the eateries.
The individual Bahamians suing Mr Dingman are Jason Rolle, the restaurants' general manager, who claims to be owed $46,113 in unpaid salary and benefits. Then there is Tyrone Adderley, a contractor allegedly due more than $2,000 for work on the Beach Club Cafe at Sandyport.
Mr Dingman's attorneys, though, are claiming that the Bahamian plaintiffs are merely "tagging along" with claims asserted by Mr Dingman's former American friends and partners, Ryan Giunta and Erik Gordon, that they were fraudulently induced to invest in the restaurant businesses.
Jeffrey Mitchell, Mr Dingman's US attorney, is thus arguing that the Bahamian plaintiffs "should have little say" in choosing where the action against Mr Dingman and the companies is heard.
In a June 23, 2016, letter to US judge Naomi Buchwald, he argued: "Every defendant is Bahamian, the companies are incorporated under Bahamian law and have principal places of business in the Bahamas, and Dingman is a permanent resident of the Bahamas, not New York as the complaint wrongly alleges.
"Defendants submit that this action should be dismissed... because the majority of the parties, many non-party witnesses, and relevant documents are all located in the Bahamas, which makes the Bahamas the more appropriate, and convenient, forum for this action.
"Further, given that the claims require the application of Bahamian law to the conduct alleged, should this matter proceed, it is best addressed by a Bahamian court."
The restaurant concepts, which came under the Out West Hospitality umbrella, included the iconic Traveller's Rest, along with 25 North Ltd, Island Smoke House Ltd and Bahamex Ltd.
Mr Mitchell then suggested, using Mr Gomez's affidavit, that the case against Mr Dingman would be tried more speedily in the Bahamas because this nation's court system was "less congested".
"While the southern district of New York is one of the congested centers of litigation...., the Bahamian courts are not," he alleged.
"They have substantial experience effectively managing complex commercial disputes, and can quickly move cases to trial.
"Moreover, given the Bahamian legal issues involved in this case, such as the approval requirements for the issuance of stock to non-Bahamian citizens, the Bahamian courts have the more significant interest in deciding and interpreting their own statutes and laws."
Mr Mitchell's assertion that the Bahamas would provide a more speedy, and effective, forum to resolve the disputes involving Mr Dingman and his former venture is likely to be challenged by many observers.
Not least his own US government. Its investment climate statement on the Bahamas, issued last week, said: "Courts in the Bahamas face a persistent backlog of cases. Civil cases, on average, can take five years to resolve.
"Foreign investors have frequently complained that local defendants are able to delay payment on Bahamian civil judgments due to the lengthy judicial process, which often involves delays during multiple levels of appeal. In addition, enforcement or collection of court judgments can be difficult."
This directly contradicts Mr Mitchell's claim. And Robert Adams, the Graham Thompson & Co attorney and partner, earlier this year issued a similar warning when he said complex, keenly-fought commercial disputes may take two-four years to come to trial in the Bahamian judicial system.
His assertion came in support of Mr Bacon in his 'judicial territory' fight with Mr Nygard, an action in which the latter is also represented by Mr Gomez.
Just as in the Dingman matter, Mr Gomez was called upon to counter Mr Adams by asserting the positive qualities of the Bahamian judicial system and why this nation was the more appropriate forum.
Drawing on similar material to argue Mr Dingman's case, Mr Gomez said "Bahamian law provides adequate remedies for all causes of action asserted by the plaintiffs in this case".
He added that the 'securities fraud' claims raised by the Americans were covered by Bahamian law, especially the notion of 'fraudulent misrepresentation', while the local plaintiffs will be able to pursue 'breach of contract' claims via the Supreme Court.
Mr Gomez also alleged that the claims of 'unjust enrichment' and 'breach of fiduciary duty' were covered by Bahamian law, and could be heard in the Supreme Court.
As to whether the Bahamian judicial system was up to the challenge, Mr Gomez added: "The Bahamas is a world financial centre, and accordingly the Bahamian courts are well-equipped to handle, and have-handled, innumerable complex matters.
"Furthermore, in my experience, the judges in the Bahamas are exceedingly accomplished jurists, and are considered our best and brightest.... The Bahamas also had on its panel judges and jurists from England, New Zealand and Australia.
"Thus, in my opinion, the judges are well capable of handling complex or large cases expeditiously, and applying foreign law where necessary."
Mr Dingman's US attorney, Mr Mitchell, concluded that "it is impractical, if not impossible, to compel the testimony" from Bahamian witnesses use in New York.
"Further, should this matter proceed here, the cost for these witnesses to travel from the Bahamas to New York for trial may be prohibitive, and is a substantial impediment to efficiently conducting a trial," he added.
"Also, as discussed in the Gomez declaration, a judgment obtained in this court is not eligible for registration in the Bahamas, but rather, in order to enforce it, plaintiffs would need to commence a new civil action in the Bahamian courts to first register the judgment before being able to enforce it.
"In all, the private factors weigh in favour of dismissing the action here and in favour of proceeding in the Bahamas."