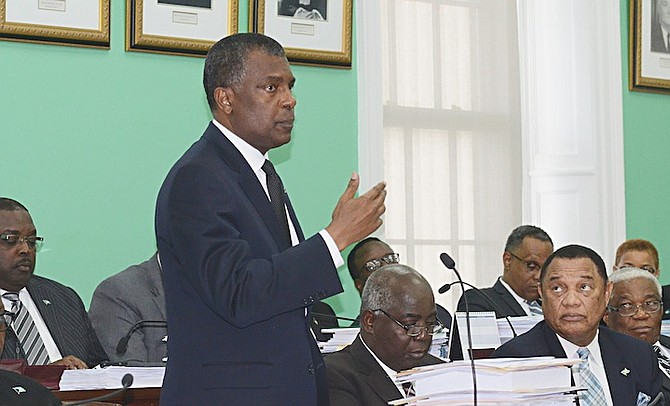 UPDATE: The US Embassy released a security message on Tuesday morning urging its citizens and US visitors in Nassau and Paradise Island to exercise heightened personal security awareness, pointing out that armed robberies and violent crime remain primary criminal threats- FULL STORY HERE
By SANCHESKA BROWN
Tribune Staff Reporter
sbrown@tribunemedia.net
FOREIGN Affairs and Immigration Minister Fred Mitchell said yesterday there has been "absolutely" no fall out from diplomats in the United States after his ministry issued a travel warning advising Bahamians, young men in particular, to exercise caution in their dealings with police in US cities.
Mr Mitchell told The Tribune that the advisory released on Friday was "nothing out of the ordinary" as the Ministry of Foreign Affairs has issued similar advisories warning Bahamians travelling to the US on several occasions.
The advisory was issued on July 8 in the wake of police-related shootings in the United States that have resulted in the deaths of black men.
Five police officers were killed and seven wounded on Thursday night during a protest in Dallas, Texas, over recent fatal shootings of black men by police in Louisiana and Minnesota.
The statement warned Bahamian citizens to "exercise appropriate caution" especially in cities affected by "tensions ... over shootings of young black males by police officers."
"In particular young males are asked to exercise extreme caution in affected cities in their interactions with the police," the travel warning said.
"Do not be confrontational, and cooperate. Do not get involved in political or other demonstrations under any circumstances and avoid crowds."
Yesterday, Mr Mitchell denied that the advisory was "politically motived" as was suggested in a news report on CNN, an American cable news network, on Saturday.
"There is no basis for this allegation," Mr Mitchell said. "The notice is quite clear in its terms. It means no more or less than what it says.
"The travel advisory is directed at Bahamian citizens who are in the United States or plan to travel there soon, that given recent tragic events, we caution our citizens to exercise good judgment, awareness, and respect for US laws and law enforcement officials. This notification is similar to others we have issued in the past and is part of our duty and legal obligation we have to our citizens. It is also similar to advisories that other countries have issued when necessary."
The advisory was picked up by several international media outlets, with some calling the warning "rare".
Online magazine slate.com urged persons to "ignore" the travel advisory because it is "more dangerous in the Bahamas than in the United States".
The article claimed that "on average, a Bahamian who leaves his country to travel to the United States would decrease his chances of being murdered".
The article also compared the Bahamas' murder rate to cities in the United States and said the murder rate in this country "is approximately 10 times the murder rate of New York City and of the United States as a whole."
"A nod should also be given to the fact that the Bahamas warning is, to some degree, simply common sense," the article said.
"But just as warnings of 'stranger danger' or advice to look out for domestic terrorists have some degree of common sense, they also greatly exaggerate threats and to some degree distract us from more acute problems. Therefore, if we want to be accurate, statistical, and factual, it should be noted that Bahamians are not imperiling their safety by travelling to the US. They're probably enhancing it, however minutely."
When asked for comment on the article, Mr Mitchell dismissed it as nonsense.
Two other countries have also warned their citizens travelling to the US to be careful in view of the incidents, according to international reports.

On Sunday, the Huffington Post reported that Bahrain, a tiny Middle Eastern island nation, on Saturday urged citizens via Twitter to "be cautious of protests or crowded areas occurring around the US".
The United Arab Emirates also warned students and citizens in the US to be careful, "aware of their immediate surroundings and avoid crowded places when possible".