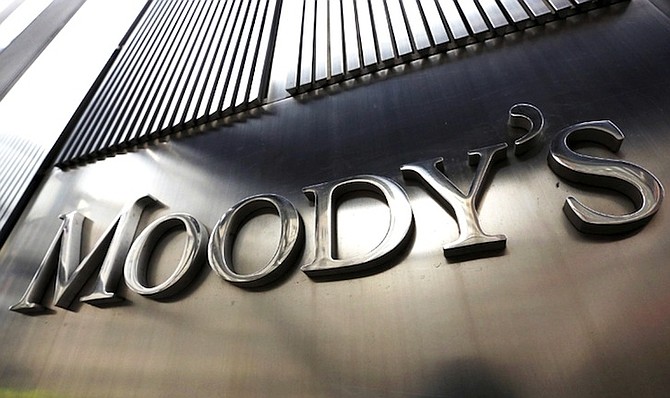 By NEIL HARTNELL
Tribune Business Editor
nhartnell@tribunemedia.net
Moody's is now questioning another key fiscal projection by Prime Minister Perry Christie's government, warning that the Bahamas' uncertain outlook makes it hard to forecast how high - and when - the debt-to-GDP ratio will peak.
The rating agency, which is threatening to potentially downgrade the Bahamas' sovereign creditworthiness to 'junk' status by end-August, also joined calls for the Government to "rein in" its spending.
Providing more detail on the areas it will assess to determine if another Bahamas downgrade is warranted, the New York-based credit rating agency also plans to examine whether further revenue measures are needed to boost fiscal consolidation.
Moody's latest issues and concerns were detailed in a July 5, 2016, missive released to the international capital markets some four days after announcing it was placing the Bahamas' sovereign rating under a two-month review.
The 'credit opinion' indicates it has clearly taken note of the major revision to the Government's 2014-2015 fiscal year performance, where initial estimates of a $198 million deficit ended up a year later at $381 million.
This was a near $200 million 'difference' that placed the 2014-2015 deficit some $95 million above the $286 million 'target' for the year, a development that threatens to undermine trust and confidence in the Government's numbers.
The implications have not escaped Moody's, which said: "On the fiscal front, during the presentation of the 2016-2017 Budget, the fiscal deficit for 2014-2015 was revised to 4.4 per cent of GDP from a previous estimate of 2.3 per cent.
"This was due to a revision of expenditures, which were increased by 1.6 per cent of GDP, while revenues were 0.5 per cent of GDP lower than previously estimated. Authorities estimate that the fiscal deficit in 2015-2016 came at 1.7 per cent of GDP."
The latter projection has yet to be confirmed or tested, and Moody's queried another of the Christie administration's fiscal assumptions - namely whether the Government's direct debt-to-GDP ratio "peaked" during the recently-closed 2015-2016 fiscal year.
The rating agency explained that the increasingly uncertain GDP growth and economic outlook made it virtually impossible to determine when the Bahamas' debt-to-GDP ratio will peak, and at what level.
"In terms of debt dynamics, the Government's debt-to-GDP ratio reached 64.4 per cent in 2014-2015, up from 60.2 per cent in 2013-2014, and we estimate it rose to 65.2 per cent in 2015-2016," Moody's said on July 5.
"While the rate of increase in the debt ratio is slowing, and despite the authorities' continued fiscal consolidation efforts, it is difficult to assess at what level - and when - this ratio will peak, given the uncertainty on the economic outlook.
"Consequently, during the review, Moody's will examine the macroeconomic and fiscal conditions that would support the stabilisation of the Government's debt metrics."
Moody's analysis contrasts sharply with the Prime Minister's optimism during the 2016-2017 Budget communication, when he forecast that the Government's direct debt-to-GDP ratio had already peaked.
"The ongoing rise of the Government debt burden will be arrested and the ratio of debt to GDP will decline to 64.1 per cent in 2016-2017, down from the peak of 64.6 per cent in 2015/16. It will fall steadily, thereafter, to stand in the area of 59 per cent in 2018-2019," Mr Christie forecast.
However, Moody's latest data predicts that the Government's direct debt-to-GDP ratio (excluding contingent liabilities such as loan guarantees) will actually increase over the same period, rising from 65.2 per cent in 2015-2016 to 65.8 per cent in the current fiscal year."
And, while predicting that the debt-to-GDP ratio will continue to climb, moving in the opposite direction to the Government's numbers, Moody's also wants to closely examine the Government's plans to contain spending.
"Moody's will also assess the Government's plans to rein in expenditures over the medium-term and what, if any, additional revenue measures may be implemented to further support the fiscal consolidation efforts," the rating agency added.
It thus adds its weight to both the Central Bank of the Bahamas and the private sector, which have both suggested that the Government needs to do more to contain recurrent (fixed cost) spending.
The Government's recurrent spending is set to increase by 7.7 per cent year-over-year in 2016-2017, rising by $166 million from $2.155 billion to $2.321 billion.
However, it is projected to fall to $2.302 billion in 2017-2018, and $2.262 billion in 2018-2019, in line with Prime Minister Perry Christie's pledge to reduce recurrent spending as a percentage of GDP.
Still, Moody's added: "We assess the Bahamas' fiscal strength as 'low', owing to its relatively high debt burden – partially offset by moderate debt affordability, a captive domestic investor base, and a favourable maturity profile.
"The debt-to-GDP ratio exceeds the 'Baa' median (42 per cent), having more than doubled over the last decade to an estimated 65.2 per cent by the end of 2015-2016.
"Government interest payments relative to revenues have also increased to an estimated 13.8 per cent in 2015-2016 from less than 10 per cent in 2007-2008, suggesting a somewhat limited fiscal space compared with that of most peers. The Bahamas has the lowest fiscal strength score among sovereigns rated 'Baa'."
This helps to explain Moody's rationale in assessing whether to downgrade the Bahamas from its current 'Baa2' sovereign rating.
The rating agency also pointed out that the Bahamas' had achieved an average GDP growth rate of 0.3 per cent between 2011-2015, lower than its prior estimate of 1 per cent.
Moody's added that this was based on November 2015 data, again indicating how taken aback it was by Department of Statistics numbers, published earlier this summer, showing that the Bahamian economy had endured two consecutive years of recession during 2014 and 2015.
"The Bahamas' economy is the second smallest in the 'Baa' category and has managed average growth of just 0.2 per cent in the last four years," Moody's said.
"For 2016 and 2017, we expect growth to remain below the economy's potential growth rate of 1.5 per cent, after which economic performance could be boosted depending on the opening date of the Baha Mar resort.
"Over the medium term, structural rigidities in the energy sector and labour market, as well as ease of doing business, may constrain growth to rates closer to 1.5 per cent."
Moody's is also projecting lower GDP growth rates than the Government, pegging economic expansion at just 0.3 per cent and 1 per cent for 2016 and 2017, respectively, compared to the Christie administration's estimates of 0.7 per cent and 1.6 per cent.
It reiterated that the Bahamas' GDP growth rate will remain "at this relatively low level over the medium-term unless several structural rigidities, including the efficiency of the energy sector, high levels of unemployment and a bureaucratic burden that thwarts ease-of-doing business, are addressed".