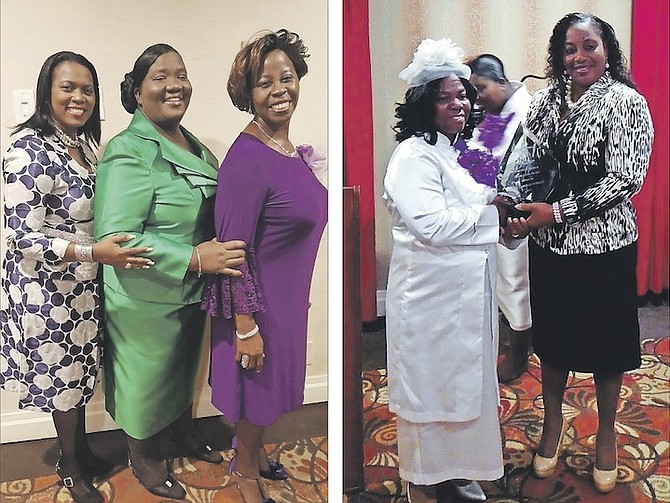 By JEFFARAH GIBSON
Tribune Features Writer
jgibson@tribunemedia.net
The Mother and Daughter Ministries International successfully hosted their seventh annual honouree conference in New York this month.
The conference, which was held at the Adria Hotel and Conference Centre in Queens, saw "deserving individuals being given their roses while they are around to smell them", according to organisers.
The festivities included two nights of conference services, two days of prophetic empowerment, a gala banquet and grand gospel concert, all under the theme, "I Will Give You Fame and Praise Amongst the People – The Radiance of His Glory."
Women from the Bahamas, St Lucia, Trinidad and Tobago, Barbados and New York were all recognised.
"We had our morning glory services where our very own down to earth Bahamian girl, Prophetess Francina Thompson who hails from Long Island, ministered the Word of God and spoke prophetically into the lives of the people as the Lord led her to," said Pastor Monique Seymour, founder of Mother and Daughter Ministries said.
"Our midday prophetic empowerment was led by another Cat Islander, one of our youngest prophets in Nassau, Prophet Julian Smith, who is young but powerful and anointed. Our first night speaker was Prophet Shawn Taylor from Signs and Wonders, another vibrant young powerful anointed man of God who will preach and tell you what thus says the Lord," she said.
Pastor Seymour told Tribune Religion that the conference was a success and presented an opportunity for those in attendance to be empowered.
"I believe that we did accomplish our goals. Our spiritual goals were to hear and receive the Word of God. We were able to connect and network with our Caribbean brothers and sisters and our honourees were recognised for their years of labour in church work. The ladies of distinction wore beautiful white dresses, purple corsages and we showcased them as royalty," she said.
Pastor Seymour also took the opportunity to thank everyone who played a pivotal role in the conference's success.
"Blessings to you the Bahamian public who have supported and sponsored our vision to take mothers and daughters of honour to carry the vision to New York, to honour and encourage the women of God who have been labouring in ministry. Indeed it gives me great pleasure to give thanks to Almighty God who has entrusted the Mothers and Daughters Ministry into my hands, and especially thank you my friends, family and well-wishers who have contributed to our past conference in Queens, New York," she said.