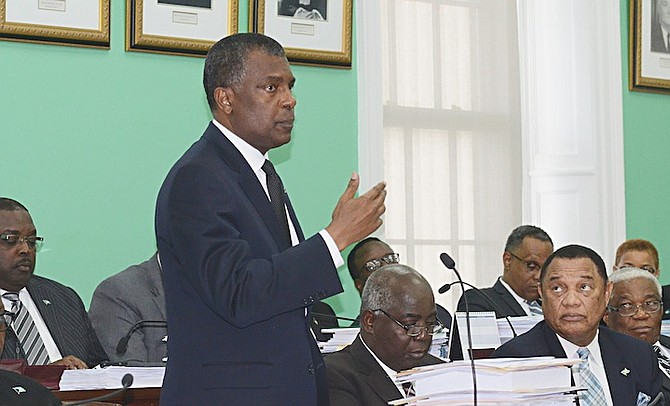 By RASHAD ROLLE
Tribune Staff Reporter
rrolle@tribunemedia.net
DURING parliamentary debate on the University of Bahamas Bill yesterday, Foreign Affairs Minister Fred Mitchell said "brain drain" is not a major problem for The Bahamas.
He argued that structural issues arising from the country's small population means that people leaving The Bahamas and making a living overseas is inevitable.
"There are structural problems relating to this criticism about people travelling overseas and moving overseas," he said.
"Notwithstanding that fact, I wish to point out these other factors. I always say the fact is plenty people want to live here…a good living is had by many people in this country. And many people stay and choose to stay here because they make a good living. Some people want to move. Some people want to come back here. Some people go away for a short time and then come back. I don't want us to have any doom and gloom and wringing our hands over this. This is not a major problem for our country."
Mr Mitchell's comments came after Montagu MP Richard Lightbourn spoke of brain drain as he criticised the state of education in this country, emphasising that many Bahamians study abroad and never return.
In its State of the Nation report published earlier this year, the National Development Plan (NDP) Secretariat highlighted brain drain as a problem that needs to be reversed.
"In recent years," the secretariat concluded, "Bahamians have opted not to return home after earning degrees abroad. When queried, they speak of limited opportunities for employment, very limited opportunities for advancement, comparatively lower wages and a lot of red tape. Looking ahead to 2040, the hope is that the situation will be much different."
Nonetheless, Mr Lightbourn's contribution drew scorn from members of the governing party, who accused him of selling Bahamians and the College of the Bahamas short.
Mr Lightbourn said it is misleading to suggest that a degree from the College of the Bahamas is on par with a degree from some of the top universities around the world.
At one point he said the college shouldn't transition to a university until significant improvements have been made in various areas, including quality of education.
Governing party members lamented his statement, with some likening it to the kind of rhetoric members of the former United Bahamian Party (UBP) made in the past.
Mr Mitchell pointed out that numerous attempts at advancing the country were, at one point, rejected as too soon, even though they later became accepted as a fundamental component of the Bahamian society.
Independence, the National Insurance Board (NIB) and the Royal Bahamas Defence Force (RBDF) are examples of this, he said, noting that they are all now seen as vital to the development of the country.
The House of Assembly passed the University of the Bahamas Bill last night.
More like this story