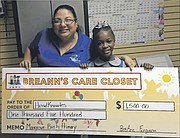 By ALESHA CADET
Tribune Features Reporter
acadet@tribunemedia.net
Just in time for back-to-school, a philanthropic primary is stepping up her initiative to ensure that Bahamian children in need have uniforms to return to class next month.
Last year, when BreAnn Ferguson was just seven years old, she became aware of the fact that there were children in her community who did not attend school because they were without the necessary uniforms.
Acting on this realisation, the caring youngster decided she wanted to do something that matters and ensures that students are not kept from school due to a lack of uniforms.
With the help of her mother, Chandra Ferguson, BreAnn made appeals to friends, family members, corporate donors and other individuals to support her mission: BreAnn's Care Closet – a charitable organisation that collects and donates new and gently used uniforms to children across the Bahamas whose families cannot afford them due to hardship or tragedy.
"This was a great idea because there are so many organisations that support kids going back to school by giving them backpacks, books and pencils, but without proper uniforms, the book bags, books and pencils are useless. It is also known that a child who is not properly dressed for school is at risk to be out of school, may suffer teasing and bullying from peers, and as a result will not perform as well as they can at school," Ms Ferguson told Tribune Woman.
Over the past year, Ms Ferguson has been tirelessly supporting her daughter's vision to ensure that no child is kept from school because they do not have uniforms.
She said her daughter, who has also volunteered along with her mother at Kiwanis for church outreach projects, has a true heart for serving others.
"This love for giving back is what inspired her to launch BreAnn's Care Closet with the assistance of her family," Ms Ferguson said.
BreAnn and her family worship at Bahamas Harvest Church where she is a member of the Kid's Electric Children's Ministry. She is also an honour roll student of St Anne's Primary School and a member of the school choir. BreAnn is often described by her teachers and school administrators as a mature, confident and mannerly student who displays good character and leadership qualities, her mother said.
BreAnn enjoys the outdoors and sporting activities like tennis. She is the 2016 tennis champion in the Girls 8s Singles Subway category and the RBC Junior National Tournaments.
Ms Ferguson said she believes it is vital for BreAnn, and any child, to take part in initiatives such as the Care Closet, because while academics are very important, it is also important for children to develop skills that will help them become productive members of society.
"BreAnn and BreAnn's Care Closet subscribes to and is very committed to the national pledge of our country, 'One people united in love and service'. And this commitment is shown in everything that the Care Closet does. She has expressed that it is her vision to have a Care Closet on every island in the Bahamas. We would also like to encourage a spirit of giving back and volunteerism amongst young Bahamians between the ages of seven and 12," said Ms Ferguson.
BreAnn's Care Closet hosts two major events each summer to support it's uniform grant programme. The Care Closet has a uniform drive and lemonade stand during the month of July.
The uniform drive event is a multi-pronged approach to obtain donations of new and gently used uniforms as well as monetary donations which go towards the purchase of uniforms. The uniform drive has drop-off locations at the Bahamas Harvest Church and St Paul's Church which are open throughout the week. Every Saturday in July, the Care Closet has a live uniform drive event at the Mall at Marathon from 10am to 2pm.
The lemonade stand was also BreAnn's idea and another avenue she uses to raise funds for the uniform grant programme.
The stand operates for the month of July and offers the traditional lemon flavour as well as strawberry and mango. The funds raised from the lemonade stand also go toward the purchase of uniforms for students who are part of the uniform grant programme.
"This is important because it is not only a lesson for BreAnn that we must be our brother's keeper, but it also spreads that message to the wider community who support the vision. At a time in our country when so many people are suffering due to the economic conditions we face, it up to us as fellow citizens to help those among us who are experiencing hardship," said Ms Ferguson.