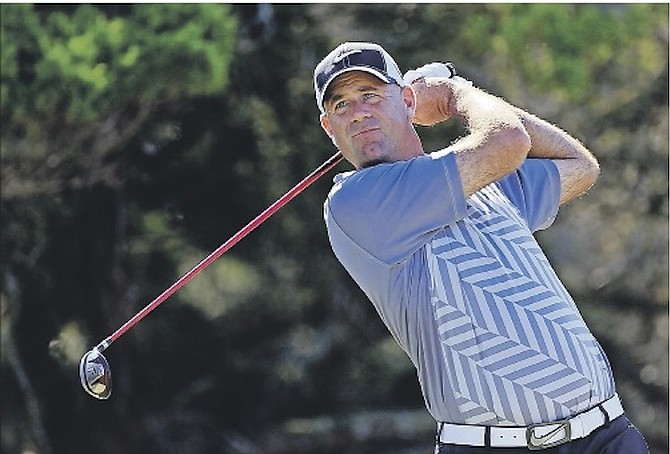 AS THE time slowly winds down until NFL training camps open and while the baseball pennant races heat up along with the temperatures, it's a hot, sticky, monotonous time for us true sports fans.
There's only so much of the NBA Summer league and WNBA one can watch (no disrespect to the new look young Lakers or the sizzling 19-1 LA Sparks).
So it's time to catch up on the WWE and look back in time to see what great sporting feats happened on this day in sports.
Now where is my 'Bray Wyatt' lamb's head mask?
GREAT JULY 19
MOMENTS IN
SPORTS HISTORY
1877: First Wimbledon Men's Tennis: Spencer W Gore beats Marshall (6-1, 6-2, 6-4)
1884: Eighth Wimbledon Men's Tennis: William Renshaw beats H Lawford (6-0, 6-4, 9-7)
1900: Michel Théato wins second Olympics marathon (2hr 59min 45sec)
1902: NY Giants lose their first game under new manager John McGraw
1903: First Tour de France won by Maurice Garin, of France
1908: Feyenoord soccer team forms in Rotterdam
1909: Cleveland shortstop Neal Ball executes an unassisted triple play
1910: Cy Young records his 500th victory v Washington 5-4 in 11 innings.
1914: Boston Braves begin drive from last to first place in National League
1915: Washington Nationals steal record eight bases v Cleveland Indians in the first inning
1918: Washington catcher Eddie Ainsmith applies for deferment from the draft. Secretary of War Newton D Baker rules baseball players are not draft exempt
1925: 19th Tour de France won by Ottavio Bottecchia, of Italy
1927: Ty Cobb gets his 4,000th hit
1933: First time brothers on opposite teams homer in the same game. Red Sox Rick Ferrell homers off brother pitcher Wes of Cleveland, who also homers
1936: Indians' Bob Feller makes his major league debut in relief
1952: 15th modern Olympic Games open in Helsinki, Finland
1952: 39th Tour de France won by Fausto Coppi, of Italy
1958: 45th Tour de France won by Charly Gaul, of Luxembourg
1959: Mickey Wright wins LPGA Championship
1960: Giants Juan Marichal debuts, with a one-hitter against Philadelphia Phillies
1963: Philadelphia Phillies Roy Siever hits 300th home run
1964: 46th PGA Championship: Bobby Nichols shoots 271 at Columbus, Ohio
1964: Ruth Jessen wins LPGA Yankee Women's Golf Open
1970: Judy Rankin wins LPGA Springfield Jaycee Golf Open
1970: 57th Tour de France won by Eddy Merckx, of Belgium
1973: Willie Mays named to the All Star team for a record 24th time, tying Stan Musial
1977: 48th All Star Baseball Game: NL wins 7-5 at Yankee Stadium
1980: 22nd modern Olympic Games opens in Moscow with boycott by US and others
1981: 110th British Golf Open: Bill Rogers shoots 276 to win at Royal St George's
1981: 68th Tour de France won by Bernard Hinault, of France
1986: Indians pitcher Phil Niekro wins his 307th game, tying him with Micky Welch
1986: Tim Witherspoon knocks out Frank Bruno in the 11th round to capture the World Heavyweight title
1987: Nick Faldo shoots 279 at Muirfield to win British Open golf
1989: Cleveland Indians Joe Carter has his fourth three home run game
1990: Pete Rose, of the Cincinnati Reds, sentenced to five months for tax evasion
1991: Cal Ripken plays in his 1,500th straight game.
1991: Mike Tyson's alleged rape of Miss Black America contestant Desiree Washington occurred
1991: With NY Yankee's victory, 10 of 14 American League teams are at .500 or better
1992: 30th Tennis Fed Cup: Germany beats Spain in Frankfurt, Germany (2-1)
1992: Juli Inkster wins LPGA JAL Big Apple Golf Classic
1993: Last day of first-class cricket for Ian Botham
1996: 26th Olympic Games opens in Atlanta, Georgia
1998: 127th British Golf Open: Mark O'Meara shoots 280 to win at Royal Birkdale
2009: 138th British Golf Open: Stewart Cink shoots 278 to win at Turnberry
• Naughty presents 'Mischief and Mayhem in da AM' from 6am to 10am, Monday to Friday and 'The Press Box' sports talk show on Sunday from 10am to 1pm, on KISS FM 96.1. Comments and questions to naughty@tribunemedia.net