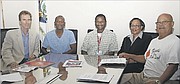 By AARON MILLER
AN URGENT need for blood donations in the Bahamas will be addressed by the first 'Unity Blood Drive' at the Mall at Marathon on Saturday, a group of organisations announced yesterday in an appeal to donors.
The Princess Margaret Hospital (PMH) Blood Bank, Doctors Hospital Blood Bank, Bahamas Red Cross Society, One Blood and the Friends of the Blood Bank have partnered to plan and co-ordinate the drive, which aims to collect at least 300 units of blood for the dwindling supplies at both hospitals.
Blood donation at the PMH remains critical as the registered requests for blood outweighs the number of donations. Last year, 3,954 donations were accepted by the PMH Blood Bank against a request for 12,487.
Basil Christie, the founder of Friends of the Blood Bank, a non-profit organisation, said the summer is traditionally a season when the donation of blood is very low and the time that it is needed the most. "There are people dying every week because they need blood," he said. "We get all kinds of excuses from people saying that they are anaemic and that they have low iron but they are all temporary problems."
Mr Christie said that everyone is capable of giving a pint of blood and is encouraging people who think they are not in the correct health to still show up and let Unity Blood Drive officials determine if they are capable of donating.
"Persons from the ages of 16 and above are asked to donate," he said, spelling out some of the rules about donation. "Individuals that are under the age of 18 must be accompanied by an adult. People must eat a heavy meal at least 30 minutes before donating. People with any piercings or tattoos that are at least one year old are eligible to donate as well."
Mr Christie and representatives of the other organisations, including Zonja Bain, of Doctors Hospital Laboratory Administration, appealed to the public to donate blood, emphasising that the need is "desperate" and that patients require blood, every day and every hour of the day. Mr Christie, a blood donor since 1967, said he hopes at least 300 pints of blood will be donated and his organisation's aim is for every eligible Bahamian to become a frequent volunteer donor.
Saturday's 'Unity Blood Drive' will take place from 10am to 6pm at the Mall at Marathon.
• See Letters, page 4