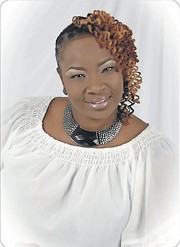 By JEFFARAH GIBSON
Tribune Features Writer
jgibson@tribunemedia.net
Inspiring a go-getter attitude in young women that will help them be successful in any field of their choosing is the goal of an upcoming workshop.
The "Young Ladies Workshop", presented by the non-profit organisation New Image, will take place on July 30 at the Bahamas Baptist College from 9am to 2pm.
The theme for the summer workshop is "I Am What You See."
There will be a number of topics presented by various speakers, including New Image's director, Tanya Sweeting, co-director Sheska Sands, administrator Rochelle Johnson, finance officer Latasha Braynen, and media and communications officer Khadijah Miller.
New Image was started with the idea of assisting young Bahamian women in becoming aware of the success they can experience both physically and spiritually. The organisation is geared towards young women between the ages of 13 and 25.
New Image also actively encourages women to examine their strengths and build their dreams, and empowers them in being "beautifully awesome," said Ms Sweeting.
The organisation hopes to fulfil this mandate with the upcoming workshop.
"(The aim of this workshop is) to bring some enlightenment to real issues and to strengthen self-confidence. This workshop is also designed to turn on the brilliance of the young ladies, not only on the inside but also on the outside. It will provide opportunities for questions, comments and open dialogue. This 'I Am What You See' summer workshop is to add splashes of beautiful motivating colours and expressions so that the young ladies can leave with a sense of appreciation, value and beauty to know that they can conquer the world," she told Tribune Woman.
During the workshop, Ms Sweeting explained, participants will learn how to let the beauty that is within them, shine outwards in their attitude, character and in their appearance. They will learn that their beauty should be cherished and protected to bloom into maturity.
Another topic that will be highlighted during workshop is the value of things and the value of time, Ms Sweeting said.
"This workshop is most beneficial to the young ladies because it provides an environment that addresses the person as a whole individual. It does not look at the spiritual aspect but also the physical and social aspect of a young lady. It focuses on a holistic approach," she said.
"There are a number of organisations, church groups, and activities that are planned or executed throughout the Bahamas that are geared to reaching out to people of all ages. New Image creates a new process: a vibrant, passionate and unique process in the approach of reaching out to young ladies."
Ms Sweeting said she is confident that after the workshop the participants will have a clear vision of their future and will be equipped with the necessary tools to achieve their goals.
"The main outcome of the workshop is to see entrepreneurs, teachers, lawyers, talents, preachers, politicians, designers, and all types of professions and careers be developed from the foundation of New Image," she said.
"Another main outcome will be to develop mentors, role models and motivational speakers for the next generation. Planting seeds of hope, knowledge and wisdom can reap a harvest of ladies aspiring for greatness."
Registration for the event is $10 and lunch will be provided. For more information e-mail newimage.242@gmail.com.