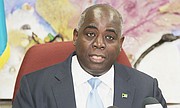 By RASHAD ROLLE
Tribune Staff Reporter
rrolle@tribunmedia.net
DEPUTY Prime Minister Philip "Brave" Davis said members of the Constituencies Commission will be appointed by the time the House of Assembly meets again on August 3.
The Constitution mandates that the Constituencies Commission review the number and boundaries of constituencies in The Bahamas at least every five years and report on whether changes should be made, such as creating additional constituencies or expanding or restricting existing ones.
Mr Davis could not say when the government will require the commission to turn in a report on the matter.
"There are several factors that inform the decision making process, like the rate of how people are registering and not registering and deciding whether you're going to redistribute constituencies, taking into account how many persons are on the register, the censors for the communities and how that has grown and not grown," he told The Tribune. "So we hope that they would report as quickly as possible."
The work of the Constituencies Commission has been the subject of criticism in the past because politicians play a central role in determining the makeup of constituencies.
Even those close to the Christie administration have recommended changes to this.
The Constitutional Commission headed by Sean McWeeney, QC, one of Prime Minister Perry Christie's advisors, said in its 2013 report that the Constitution should be amended to include the Electoral and Boundaries Commission, which would replace the Constituencies Commission.
Mr McWeeney's commission recommended that under such an institution the parliamentary commissioner would be "restyled as the chief electoral officer and be an ex officio member of the commission".
The Constitutional Commission also recommended that such a change should be made in tandem with including constitutional provisions that would require Parliament "to make laws for the regulation of political parties in the areas of campaign financing, broadcastings, etc to ensure transparency and accountability and to discourage the corrupting involvement of special interest groups and persons and their money in the electoral process."
Asked about the recommendation of the Constitutional Commission that the Constituencies Commission be independent, Mr Davis suggested this is not something that will happen soon.
"There's lots of talks going on about that, that it should be less political and persons should be independent in their thinking," he said. "It's an idea that I embrace but right now we have what we have. We have to work with what we have."
Mr Christie spoke about the commission on Monday, while a guest on the KISS FM radio show "Ed Fields Live".
"We haven't yet named a constituency or Boundaries Commission as required by law, the (old voters') register has now expired. We are on to a new register so you are going to find that we are going to begin a conversation on this matter shortly," the prime minister said.