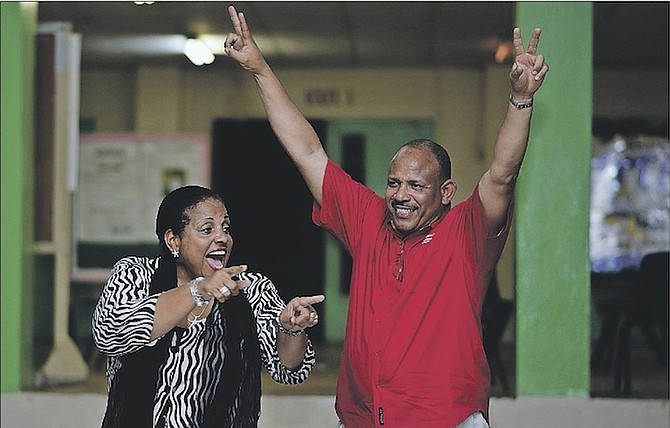 By AVA TURNQUEST
Tribune Chief Reporter
aturnquest@tribunemedia.net
AS the Free National Movement hunkers down for a leadership battle, another storm looms in Long Island between supporters and detractors of representative Loretta Butler-Turner.
Long considered an FNM stronghold, senior FNMs on the island yesterday revealed that the outcome of next week's highly anticipated convention could push die-hard supporters to seek out an independent candidate or boycott the next general election.
"If they don't stop this foolishness, I won't be voting at all," said Cheryl Hall, chaplain of the FNM's Long Island Constituency Association and convention delegate.
"The convention, whether Mrs Butler-Turner wins or not, according to how Dr Minnis handles himself or his people, because I can't fault him, it's his people that are doing this. Because of them, they are going to cause so many FNMs not to vote.
"If he don't run Loretta in Long Island, he won't win Long Island. They will not vote, they will boycott. Mrs Butler-Turner is my representative, my MP. I will back her because she's my MP. If she was not my MP and I had a different MP, then I would have to look at the pros and cons. Looking at both sides, for her track record in Parliament, I would still go with her."
For the FNMs interviewed in Long Island, much like party supporters throughout the country, it is hoped next week's convention will lay to rest the caustic infighting that has dogged the party's image. Although widely regarded as vital to the party's future viability in the 2017 general election, the dissenting MPs that pushed for an earlier date have been branded as dividers, with Mrs Butler-Turner taking the brunt of the scorching criticism due to her leadership bid. It has been widely speculated whether the Long Island MP or her parliamentary colleagues will be renominated as standard bearers if Dr Minnis is successful in defending his post at convention.
"She's going to have a very hard time here," said a former constituency association member, who spoke on the condition of anonymity.
"Leading up to the last general election she was never our choice, that was (former Prime Minister Hubert) Ingraham's choice. When he met with us, one of the executives of the first association we had told Ingraham in her presence that they could look through her and see she was a fake."
The former member continued: "Ingraham explained why he wanted her as a part of his government and we went along because of what he said. All she is concerned about is destroying whatever she touches."
The former member represents a faction of FNMs in Long Island who insist that their reproach of the MP stems from unsettled issues dating back to the 2012 general election and perceived character flaws.
Mrs Butler-Turner secured 56.6 per cent of the vote in 2012, beating the PLP's candidate Alex Storr and the DNA's candidate Mario Cartwright.
The member continued: "If you can't follow how could you lead? This woman knows nothing about unity. Even during our (2012) campaign she ran a cheap campaign. They gamble on Long Island, they know Long Island is always loyal to FNM.
"These folks only waiting until after convention. Don't be too surprised if you hear an independent running here."
The FNM member added: "She gone get slaughter. When Dr Minnis was here, they told him don't send her back here."
Rumours that Mrs Butler-Turner does not hold the support of her constituency, and is under threat of being rejected as a standard bearer for the 2017 general election, have been widely circulated.
However, Mrs Butler-Turner's supporters on the island insist that her detractors are few, and that most of the controversy has been instigated by PLP agents. Some pointed out that former Cabinet minister Tennyson Wells campaigned on behalf of the PLP in the 2012 general election, while others expressed suspicion of Tall Pines MP Leslie Miller's public support of Dr Minnis. Mr Wells has recently been a vocal advocate of Dr Minnis.
"I can count them on one hand, certain people from the other party want to stir this trouble up," Mrs Hall said. "It's the PLP stirring the pot, it's not the FNM stirring the pot. I have been campaigning, people whether they disagree with Loretta Butler-Turner or not, they are voting FNM. Don't believe everything you hear."
A "born and bred" FNM, Mrs Hall said she recently became more involved in the party after the death of her husband Thomas R G Hall, a pharmacist and staunch supporter of Mrs Butler-Turner, earlier this year. She believes the pushback against the Long Island MP is rooted in misogyny, something she has faced personally as a female Anglican priest. She underscored that Mrs Butler-Turner's instrumental role in delivering relief to the storm-ravaged island after Hurricane Joaquin will not be overlooked.
Mrs Hall said: "A lot of people are spreading propaganda. There are a couple of bad apples, they don't want a woman prime minister.
They will support her in an election but for some reason on this island they don't want women leading nothing. They don't want women priests.
"If you able to speak to upstanding citizens on the island," she continued, "they are for Loretta, a lot of the young people as well they are for a change."
Long Island delegates were split in half during the 2014 convention. Next week, Mrs Butler-Turner is expected to bring in five of the six votes allocated for her constituency.
One tenet that both sides agree on, however, is that the party has long taken the island's unwavering support for granted.