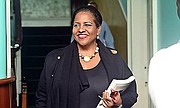 By SANCHESKA BROWN
Tribune Staff Reporter
sbrown@tribunemedia.net
LONG ISLAND MP Loretta Butler-Turner said yesterday she will pay the remaining $50,000 she pledged the Free National Movement's Finance Committee for the party's upcoming convention today, despite still having "concerns" about the "transparency" of the event.
Mrs Butler-Turner told The Tribune that she has every intention of honouring her promise to pay $100,000 to assist with the three-day event, however she said she has serious concerns that have yet to be answered by the Convention Committee.
Mrs Butler-Turner remained tight lipped on what her concerns were but said she hopes the election process at the convention is fair and transparent.
"I will make every effort to ensure that any questions I have in my mind are dealt with at the party level. I choose my words very carefully, hopefully we will have a free and fair election process," Mrs Butler-Turner said.
"If we cannot as the potential government go into this and have free and fair elections how will we be able to govern? That is the most important thing for me. In order to be effective in governance we have to be most transparent and accountable, especially when dealing with the internal matters of our organisation.
"There are issues I would love to have concise and clear answers on but I have not gotten that. I am committed to ensure that the FNM gets my share of the funds to make the convention happen and by tomorrow (Friday) they will have the balance of my money. I have addressed my concerns, I am not satisfied they have been met but I will still give them the money."
Mrs Butler-Turner and FNM Leader Dr Hubert Minnis were each asked to raise $100,000 to fund the Official Opposition's national convention on July 27 to 29. It is estimated that the convention will cost the party $350,000, with the party's finance committee tasked with raising the remaining $150,000. As of Wednesday, Dr Minnis had paid in full, Mrs Butler-Turner had only paid half and the Finance Committee had contributed $50,000.
On Wednesday, party Chairman Sidney Collie said any surprise leadership contenders would not be required to pay any money toward the convention.
When asked if she saw this as an issue, Mrs Butler-Turner said: "No, I don't."
"I do not have a problem with that, sometimes we have to do what is right for the greater good," she said.
"At this juncture this is the only way we are able to have a convention so I do not mind doing my part in that regard. I just pray that the challenges we have, everyone is satisfied at the end of the day that the election was done in fairness and transparency."
So far, only Dr Minnis and Mrs Butler-Turner have announced that they are vying for leadership, while Dr Duane Sands will challenge East Grand Bahama MP Peter Turnquest for his deputy leader's post.
The theme for this year's convention is "Because You Matter" and will be held at the Melià Hotel.
Evening sessions begin at 8pm and are open to the public. The convention also will be carried live on Our TV, ZNS TV, ZNS Radio, Peace FM and Star FM. It also will be streamed live on Facebook.