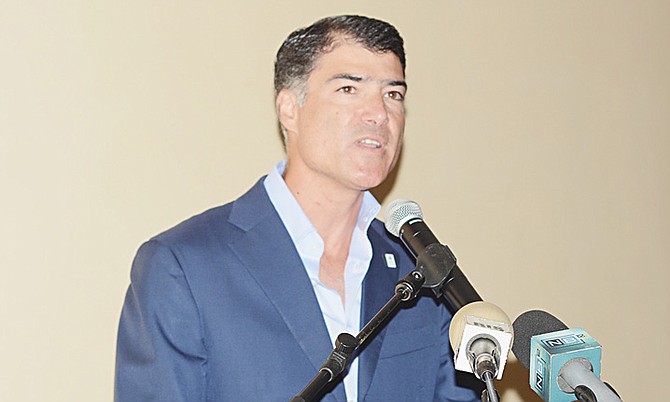 By RASHAD ROLLE
Tribune Staff Reporter
rrolle@tribunemedia.net
SARKIS Izmirlian's Granite Ventures Ltd filed a summons in the Supreme Court yesterday seeking to transition Baha Mar from provisional liquidation into full liquidation, a process Prime Minister Perry Christie once described as a "chilling prospect" for the resort and the country.
In a press statement, Granite Ventures said it took this route because Baha Mar's provisional liquidation process "has been inappropriately prolonged," failing "to provide either any standing or transparency for Baha Mar's unsecured creditors".
This comes as Baha Mar's receivers are believed to be nearing a decision regarding which buyer will be selected to purchase the resort.
"For more than a year," Granite said in a statement, "the best interest of (the unsecured creditors) have not been served by the Bahamian government's ill-conceived placement of Baha Mar into provisional liquidation under which unsecured creditors, including many Bahamians, have received no information about any progress towards resolving their debts, while the movement from provisional liquidation to liquidation is continuously postponed without reason."
Granite Ventures said the provisional liquidation process has only served the economic interests of the Export-Import Bank of China "and, by association, China State Construction Engineering Corporation and its subsidiary CCA."
The bank is Baha Mar's $2.5 billion secured creditor.
"By moving Baha Mar to full liquidation status, Granite seeks to ensure that unsecured creditors will finally have a fully court appointed independent party, namely a liquidator, who will be able to secure fairness through their statutory powers by acting as a check on the bank appointed receivers," Granite Ventures said.
"In the inordinately long provisional liquidation––a time period well beyond what provisional liquidations are meant to cover––unsecured creditors, including hundreds of Bahamian companies, remain unpaid and with no visibility into either the likelihood or the timing of any repayment of debts owed."
In an interview with The Tribune, Wayne Munroe, attorney for certain government agencies owed money by Baha Mar, disputed the idea that the provisional liquidators have been indifferent to the needs of Baha Mar's unsecured creditors.
"Izmirlian pledged all assets of the company to the EXIM Bank so I don't know what their talk is now," he said. 'There is nothing for the joint provisional liquidators to administer because he gave all the assets to the EXIM Bank. And they know this."

Mr Munroe called Granite's latest move a sign of Mr Izmirlian's desperation.
"I gather he may have gotten an idea that the receivers may have chosen a buyer and this is a desperate attempt to complicate matters," he said. "He does not have our national interest at heart and if anyone had any doubt this should dissuade them."
Previously, Mr Izmirlian himself described liquidation as an unattractive prospect for Baha Mar.
In response to the Supreme Court's decision last November to adjourn liquidation proceedings until this year, BMD Holdings LTD, the holding company through which Mr Izmirlian was developing Baha Mar, said: "The developer has never viewed a winding up or liquidation of Baha Mar as an attractive outcome for the Bahamas."
Prime Minster Perry Christie has also expressed aversion to liquidation, saying last year that it would represent a "chilling prospect" for the country.

"No one wants that," Mr Christie said to emphasise the need for various parties to reach an agreement on the resort.
After winding-up petitions are filed, provisional liquidators are sometimes appointed to preserve a company's assets.
Liquidation, on the other hand, would involve the dividing of assets up among creditors and shareholders.
Since the original hearing date of November 2, a hearing for full liquidation proceedings to commence has been repeatedly adjourned. The next hearing on the issue is slated for September 30.
Granite said it hopes to have its latest petition heard on that date.