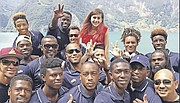 AFTER about 10 hours of driving, including a journey through the Swiss Alps, our national beach soccer squad arrived in Viareggio, Italy, for a weekend of club friendlies.
Today, the team is scheduled to take on Lazio Beach Soccer, third place finishers at the US Beach Soccer Championships. On Saturday, the Rake and Scrape boys will take on the local side Viareggio Beach Soccer.
On top of enjoying home field advantage, Viareggio also boasts the title of best team in Europe. The third and final friendly will be played on Sunday versus Pisa.
Team Bahamas can expect another tough match, with a few familiar faces. Pisa's top player, Heimanu Taiurui, is an assistant trainer with the Bahamas beach soccer squad.
Overall, it is expected that this weekend will provide a worthy test to the players, as they continue preparation for next year's Beach Soccer World Cup.