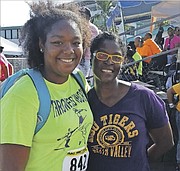 By BRENT STUBBS
Senior Sports Reporter
bstubbs@tribunemedia.net
Serena Brown came back from lowering Chafree Bain's junior national record two days earlier to advance to the final of the women's discus by erasing her mentor Lavern Eve's national record for a fourth place in the IAAF World Under-20 Championships in Bydgoszcz, Poland.
After qualifying with the eighth best throw of 50.94 metres to lower Bain's junior national record of 49.66 that she set on May 21, 2000 on the first day of competition on Tuesday, Brown posted her best throw of 52.73m on day three yesterday to erase Eve's national record of 52.52m that she set back on May 24, 1990 in Houston, Texas.
"I'm still analysing and critiquing my performance," Brown told The Tribune after her feat. "So I'm not in a celebration mode as yet. But it is truly an honour to have broken Lavern's record. I told her I was going after the record. Usually record holders would want their records to last forever.
"But it's almost as if it was anyone to break the record, she said she would prefer it to be me. It's such a a blessing, such a humbling experience for which I am forever grateful. It's still surreal as to how far I've come. It hasn't hit me yet that I'm now the junior and senior national record holder for the discus throw. It hasn't hit me yet that I am fourth in the world at the junior level. But in all things I must give God thanks, even if it wasn't what I wanted exactly."
To cement her feat, Brown achieved the feat on her first attempt and came back and completed her three series of throws with 52.28m and 45.81m respectively to trail the three medal winners.
Kristina Rakocevic of Montenegro picked up the gold with 56.36m, followed by Kirsty Williams of Australia with 53.91m and Moldova's Alexandra Emilianov with 53.08m.
"The competition is what brought those record- breaking performances out of me," Brown stated. "Overall before the competition started, I wasn't even in the top 15. I managed to prove them wrong and that made me recognise that I'm actually a competitor, not just another name that was on the start list. So if anything I'm content with this that I finally earned respect internationally."
Brown, who is now preparing to head to Texas A&M University on August 15 to begin her collegiate career after her two-sport (basketball and track) sting at St Augustine's College, was the first and only competitor so far on the Bahamas' 14-member team to advance to a final in the week long global championships that will wrap up on Sunday.
Her father Whittington Brown said he was very elated when he got the results at a Rotary meeting.
"She was in third place, then she dropped to fourth. They had made comments that Bahamians are not known for the throwing events, but she proved them wrong," he said. "I'm elated. She worked so hard. When her friends are out partying, she is training or resting up. I am just brimming over with pride.
"I'm extremely proud of her because she deserves everything she got. Coach Bradley Cooper, even when he was sick, he used to come out in his chair making sure that she did what she needed to do. Coach Corrington Maycock was there assisting her and last year Dawn Woodside was helping her out, so I'm very pleased with what she has achieved."
Two other competitors were in action yesterday.
Samson Colebrooke advanced out of the first round of the men's 200m in 21.35 seconds after he placed fourth in his heat for 18th place overall. He went on to the semi-finals where he placed fifth in his heat in a personal best of 21.30 for 16th overall, but it wasn't enough to get him into the final.
And Bronson Rolle, competing in the preliminaries of the men's 400m hurdles, was fourth in his heat in 52.69 for 25th overall, just falling short of advancing to the semis by two spots.
Today, three women will be in competition on the track.
Sasha Wells will be the lone competitor in the 100m hurdles. She will run out of lane five in heat one with season and personal best of 13.86 and will need to finish in one of the top three positions or have one of the next six fastest times to get into the semi's. Charisma Taylor was also expected to compete in the event, but she suffered an injury in training in Poland and won't be allowed to compete.
In the 200m, Devine Parker will be out to redeem herself after her early exit in the 100m by running out of lane four in the third heat of the 200m prelim's. Jenae Ambrose will contest lane eight in the fourth heat. They will need to post one of the top four times in their heats or get one of the next four fastest times in order to advance to the semi'.