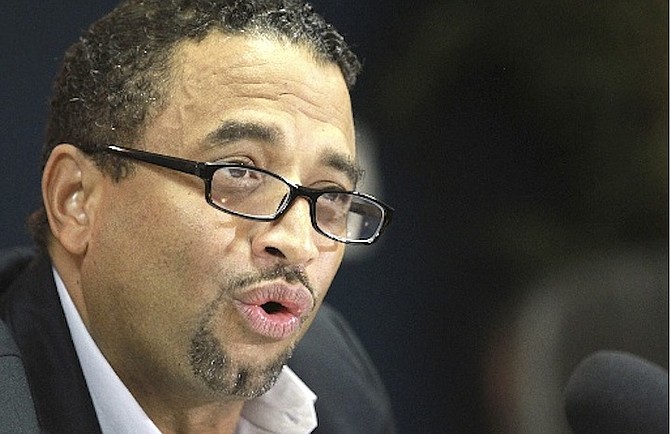 By NEIL HARTNELL
Tribune Business Editor
nhartnell@tribunemedia.net
The DNA's leader yesterday said "the living nightmare" of business in the Bahamas was brought home when the National Insurance Board (NIB) effectively tore up the contract with his family's pharmacy via its Tax Compliance Certificate (TCC) demands.
Branville McCartney told Tribune Business that NIB is required to reimburse Wilmac's Pharmacy weekly for drugs supplied to National Prescription Drug Programme (NPDP) members.
He explained that the contract's terms were supposed to endure for the full 12 months of their agreement, and could only be changed by mutual agreement.
That, though, was before NIB introduced the requirement that all its vendors had to produce a valid TCC before they receive payment for goods and services ALREADY rendered.
Mr McCartney said the Government's "bureaucratic inefficiencies", and the "back and forth" with various departments, ultimately meant it took several weeks before Wilmac's could obtain the cherished TCC.
And, as a result, NIB's payment for pharmaceutical drugs supplied under the NPDP in early June only arrived at the end of last week - some seven to eight weeks later than contractual stipulations.
As a result of the massive "burden" this is creating for Wilmac's cash flow and financial sustainability, Mr McCartney said he and his family were "seriously considering" whether to renew the NIB contract when it expires at end-July.
"We have a contract with NIB where we provide drugs for the NIB drug plan [the NPDP]," the DNA leader told Tribune Business. "We are the second biggest provider to the plan, Wilmac's at Poinciana Drive, behind Lowe's.
"The contract we have with NIB is a yearly contract, July to July, and speaks about us purchasing drugs for that plan, so that once persons come in they can get their medication.
"We are supposed to be paid within a week. The contract says it's an enforceable contract, and cannot be changed without mutual agreement."
However, Mr McCartney said NIB unilaterally - and arbitrarily - changed the terms of their contract with its demand that Wilmac's supply a TCC along with its invoice in order to get paid.
"A few months ago, they introduced this concept where you must have in place a Tax Compliance Certificate (TCC) before we are paid," he told Tribune Business. "They will not be paying you unless you have a TCC.
"This was, firstly, not part of our agreement, and second, we have to get this TCC every month."
Mr McCartney said confirming that government 'red tape', and the need to deal with different revenue agencies, meant it took Wilmac's several weeks to secure the TCC and supporting documentation.
"Because of the back and forth with the Government departments, it took us just to last week to be paid for the beginning of June," he said.
"In the meantime, we have to spend money every day on drugs to keep the supply going for persons coming in for medications. This is thousands and thousands of dollars every month.
"Because of the bureaucratic inefficiency of the Government departments we're dealing with, getting this certification is creating a burden on our business."
As a result, Mr McCartney revealed: "We are now seriously considering whether to renew our contract with NIB at the end of this month.
"It costs us thousands and thousands of dollars, and people are not paying us because of the bureaucracy we have to go through monthly. This is why people do not want to go into business or expand their business - it's because of the red tape."
Mr McCartney added that the 'TCC issue' was the second time that his family's pharmaceutical business had been negatively impacted by an abrupt NIB policy change over the NPDP.
He recalled how NIB's decision to switch virtually overnight to cheaper, generic drugs left Wilmac's and other pharmacies carrying thousands of dollars worth of inventory they were no longer able to sell to NPDP customers, forcing them to 'eat' significant losses.
"The completely changed the type of drugs we had to purchase," Mr McCartney said. "They went from name brand drugs to generics, which are much less expensive.
"When they did that, they didn't tell us. The thousands of dollars that we spent purchasing the named brands, we lost completely.
"That's an example, from a personal point of view, why people are reluctant to get into business or expand their business, because the Government is making doing business in this country a living nightmare."
Mr McCartney said he "agreed 100 per cent" with Sir Franklyn Wilson's call, made in last week's Tribune Business, for 'risk takers' and those with capital to invest rather than leave monies in the bank.
Yet he added that experiences such as his own were exactly why so many Bahamian entrepreneurs and businessmen had become increasingly risk averse.
NIB's TCC demands are part of the Christie administration's drive to implement tighter tax enforcement measures that were introduced in July 2015 to accompany that year's Budget.
Part IIB, Section 19I, of the Financial Administration and Audit Act mandates that a business/entrepreneur must provide a TCC both to win an initial government tender and obtain payment on that contract, provided the value is greater than $10,000.
The taxes they must be in full compliance with are Business Licences and real property taxes, Immigration (work permit) fees, all Customs-related taxes, Value-Added Tax (VAT), NIB contributions and motor vehicle licensing fees.
With the Public Treasury desperate for every cent of revenue it can earn, given the Bahamas' strained fiscal position, the TCC-related changes are seen by the Government as further tightening the revenue enforcement circle, and eliminating tax compliance gaps and loopholes.
However, several Bahamian businesses have argued that it is "unconscionable" for NIB and other government agencies to demand a TCC be produced before paying for goods and services already received.
They are also concerned that it will exacerbate the stranglehold bureaucracy and red tape are imposing on Bahamian businesses, and fear an ever-increasing compliance burden that will "cripple" cash flow.
Tribune Business was told privately by at least one business, which did not wish to be named, that it is considering placing NIB and other government agencies on a 'cash up front' basis as a result of the TCC demands.