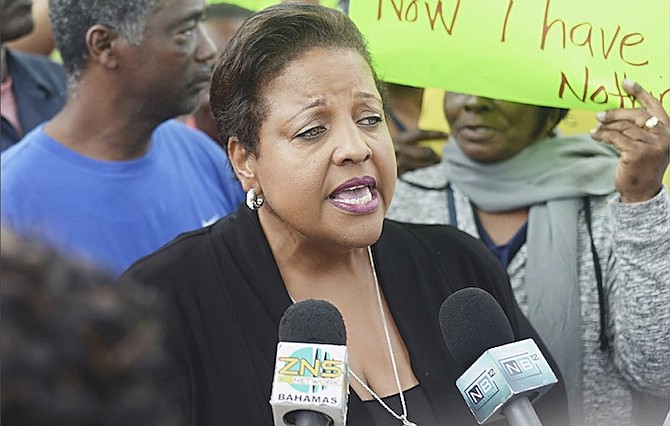 By RICARDO WELLS
Tribune Staff Reporter
rwells@tribunemedia.net
AS the start date for the Free National Movement's convention nears, Long Island MP and party leader hopeful Loretta Butler-Turner proclaimed in her latest campaign ad that she has "stronger leadership abilities" compared to incumbent Leader Dr Hubert Minnis.
In the nearly three-minute long video circulated on social media Monday, Mrs Butler-Turner insisted that while both she and Dr Minnis learned at the feet of former Prime Minister Hubert Ingraham, she was by far better suited for the "big chair" of leadership.
"We have a country to win and a party to save. We are going to unify our party. It is not about getting rid of anybody, it's truly about choosing the best person," she stated.
Mrs Butler-Turner, in the video clearly aimed at the 410 delegates expected to vote in the party's convention later this week, said she is prepared to stand up for all FNMs the way she did for Dr Minnis in the House of Assembly - seemingly taking a shot at the passive nature of her leader in Parliament.
"Our country is in a crisis, and FNMs and Bahamians are feeling marginalised, disenfranchised and are feeling that governance is truly not about them.
"So what I say to the delegates today, what we truly need is a leader. A leader that will stand up and fight for your rights the same way I stood up and protected our leader in the House of Assembly.
"That's the kind of courage and energy that I am going to bring to the table to make sure that FNMs across the length and breath of this Bahamas are once again integrated. The level of victimisation that we see hurled at FNMs and the marginalisation that Bahamians are feeling, I am that leader that is going to stand up to turn it around."
Mrs Butler-Turner implored delegates to consider her as the best candidate for the job, insisting that her political fate was in their hands.
"We've got to be able to have an individual and a team of persons that get it and say, 'you know what, enough is enough, time for us to turn this country around. Time for us to make opportunities available again to FNMs who have been shut out of this economy.' It is time for us to make Bahamians, and young people in particular, part of what the Bahamas truly is.
"This is the change that I bring, this is the plan that I want to share with you. Because at the end of the day, if we have five more years of this incompetent, nepotism, cronyism and greed displayed by this PLP government there will be no turning back."
The Long Island MP said her bid wasn't about ostracising anyone. She maintained that she only stepped up to the challenge after being spurred on by supporters.
"It is not about getting rid of anybody, it's truly about choosing the best person. You know that there is an old adage that says, 'sometimes the best man for the job is this woman,'" said Mrs Butler-Turner as she pointed at herself.
"This woman understands your pain. She has heard your cry. And like I said, she has been a follower just like our current leader. We both followed, followed under our former leader and he imparted some very strong lessons to us."
"But for this big chair we now need someone who displays stronger leadership abilities and that is why I am asking every FNM delegate to think and pray and vote for Loretta Butler-Turner and Duane Sands; not only to unite our party, but to turn it around."
Heading into Wednesday's convention, Mrs Butler-Turner's "Forward Together" campaign has relied heavily on social media platforms to extend their plans and views to the country.
The Turner-Sands team has held several community forums in recent weeks, which have been streamed live on Facebook.
There has been some modest support to the campaign's tech savvy approach to reaching voters. However, despite this strategy, one party insider told The Tribune that the campaign stands very little chance against the 'Roc wit Doc' campaign.
The FNM's convention will be held Wednesday through Friday at the Melià resort, Cable Beach.