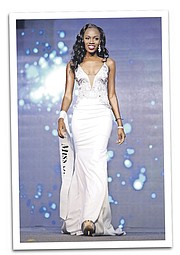 By SANCHESKA BROWN
Tribune Staff Reporter
sbrown@tribunemedia.net
Dedicating her victory to her late father, 23-year-old Ashley Hamilton soared above her competition in Sunday night's Miss Bahamas World pageant, winning not only the crown, but the hearts of the audience as well.
In an emotional interview, Ashley, who is a veteran of the beauty pageant circuit in the Bahamas, said she felt a sense of calm knowing that her father was standing on stage with her throughout the night.
The 6'1" tall aspiring lawyer and model said she is privileged and honoured to have competed against eight of the fiercest young ladies in the Bahamas, and she looks forward to representing her country in the Miss World international pageant this December.
Fighting back tears, Ashley said she believes she can relate to most Bahamians because she is an island girl who is willing to "do whatever it takes" to get the job done.
"I represent a true island beauty. I was never born with a silver spoon in my mouth. In November 2014, I had to grow up very quickly when we lost our father. I am an island girl who had to work for everything in life," she said.
"If you live in our house every day, you know the struggles that we go through. We may not show it on the outside, but on the inside we struggle. And this competition I dedicated to my father from day one. I said, 'Daddy, you may not be here with me psychically, but spiritually and emotionally I feel you every step of the way'. I had a sense of calm tonight knowing that he was standing right next to me and I was making him so proud. And I know if he was here today he would be sitting right next to me."
Representing Long Island, Ashley said was humbled to take the crown home to an island filled with "industrious, hard working people".
"In December, months after Hurricane Joaquin, I visited Long Island and I saw first-hand, though they were rebuilding, the devastation that the island faced. And so I am ecstatic to know that I represent a group of industrious people like myself, who are willing to work hard and get the job done," she said.
Miss Bahamas Organisation President Michelle Malcolm said they have a lot to accomplish with the new queen in a short period of time, but she has no doubt that Ashley has what it takes to bring the crown home in December when the Miss World pageant takes place in Washington, DC.
"We had such an amazing group of young ladies. No matter who was chosen we would have been very, very happy because we have so many awesome choices," said Ms Malcolm.
"I am so proud of these young ladies. Ashley will be a wonderful queen. She seems to be a level-headed young woman who is goal-orientated and knows how to get the job done, and I am confident that she is going to continue on the rich legacy that Chantel O'Brian, the former queen, has left behind ".
Miss Paradise Island Pischia Adderley, 23, was the runner-up in the pageant followed by Miss Cat Island Rotalya Williams.