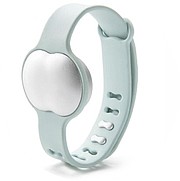 THERE'S a wearable for just about everything these days - including one designed to help women trying to get pregnant.
Ava, a Swiss startup, yesterday started shipping a $199 bracelet that tracks a woman's fertility cycles and helps her figure out the optimal time to conceive.
According to The New England Journal of Medicine, a healthy, young couple having sex every day has only a 25 per cent chance of conceiving in any given month. That figure decreases with age, health issues, intercourse frequency and other factors.
The Ava bracelet sends three million data points it collects to a woman's phone. The Ava app then displays the information through several graphs along with a timeline of her cycle, which depicts when she will be the most fertile. The Food and Drug Administration-approved bracelet tracks nine physical metrics, including heart rate variability and heat loss, to predict a woman's fertility window, or the six days a month when she can get pregnant.
TWITTER TO STREAM LIVE SPORTS
TWITTER will live stream for free one Major League Baseball game and one NHL game per week under a new deal. The agreement will allow viewers to watch games nationally that would normally be available only in the two teams' home markets. Users will not need to be logged into Twitter to see the games.
The baseball games will also be available outside the US, with some exceptions. The social media network is attempting to move into live sports streaming through "over-the-top" broadcasts, which do not require a cable subscription.
In April, Twitter reached a deal with the NFL to stream 10 "Thursday Night Football" games this fall.
VCR ERA IS OFFICIALLY OVER
THE plug has been pulled on the world's last video cassette recorder (VCR), with Japanese electronics maker Funai Electric Co saying that production will end this month.
Funai began making videotape players in 1983, and videotape recorders in 1985 and in 2000 made 15 million VHS machines that played or recorded cassette tapes. Last year it made 750,000 as demand fell for the outdated products.
Many families and libraries have content stored in the VHS format and want to convert the tapes to DVD or other digital discs.