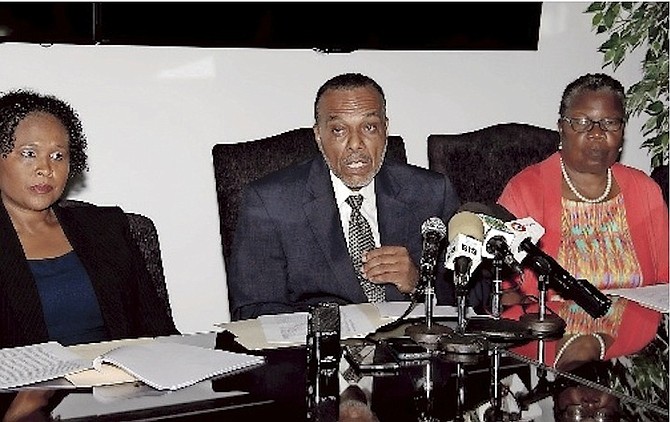 By RICARDO WELLS
Tribune Staff Reporter
rwells@tribunemedia.net
HEALTH officials yesterday reinforced their efforts to combat the potential spread of the Zika virus to The Bahamas, again issuing notices that residents have the biggest role to play in prevention.
Representatives from several key government departments critical to the fight against Zika assembled at the Ministry of Health's Meeting Street offices to disclose the current scope of efforts throughout the country.
In a prepared statement read by the Chief Medical Officer, Dr Glen Beneby, officials confirmed that their screening and prevention activities have already addressed 56 potential Zika cases, all resulting in negative readings.
"As of July 9, 2016, there have been 56 suspected Zika cases, all of whom have had samples sent to our reference laboratory for testing. To date all results received are negative for the Zika virus," Dr Beneby said.
"As it stands, local health officials have implemented a special clinic for persons travelling to and returning from areas affected by the Zika virus. Additionally, source reduction and activities to decrease the mosquito population such as treatment of water sources and fogging are ongoing."
The travel clinic for athletes and persons travelling to the Olympic Games in Rio de Janeiro, Brazil, next month is listed as the Blue Hill Road government clinic and operates weekly.
There are ongoing discussions to implement additional clinics in New Providence - at the Flamingo Gardens and Elizabeth Estates clinics.
"Other activities include conducting Zika educational sessions for public and private health care providers," Dr Beneby said. "Family Island visits with associated town meetings, school presentations, radio and television appearances and airing of public services announcement in both English and Creole are also occurring.
"As a proactive measure, the Ministry of Health Surveillance unit is meeting with sporting and other organisations involved in international events and recently reached out to the Olympic team through the Bahamas Olympic Association and its medical personnel for the provision of Zika and other public health precautionary measures required prior to, during and post travel."
Dr Beneby also addressed the modes of transmission for the virus.
"Zika is transmitted primarily by the bite of an infected Aedes aegypti mosquito, the same mosquito that transmit dengue, chikungunya and yellow fever viruses. This mosquito is present in the Bahamas. These mosquitos are commonly found around the home and breed in any standing water sources."
Dr Benedy described the Aedes aegypti as an aggressive "day biter" with increased biting activity "two hours after sunrise and several hours before sunset".
"Other modes of transmission have been identified, including passing the Zika infection from mother to baby and sexual transmission from infected partners. Cases of blood transfusion and laboratory worker infections have also been documented."
He warned that people who suspect that they are infected, if they do engage in sexual activities, to use condoms from start to finish. He also urged suspected carriers to refrain from participating in sexual activities with a woman who is or can become pregnant.
"The best thing to do would be to abstain from sex while infected," he added.
Dr Beneby warned that only one in every five persons infected would show symptoms. "Persons with Zika virus infection most commonly have fever, skin rash and conjunctivitis (red eyes).
"There is no specific treatment or vaccine currently available for Zika virus infection and the best form of protection is prevention," said Dr Beneby.
The government began testing suspected cases of Zika in January, establishing several programmes and initiatives to address and monitor the virus.
As the effects of Zika became wider known across the globe, local officials heightened surveillance through the Department of Public Health in collaboration with the Department of Environmental Health Service (DEHS) conducting the required public health and environmental follow-up for the suspected cases.
Andrew Thompson, Assistant Director in the DEHS with responsibilities for vector control, presented the department's fogging strategy.
"Fogging is done on the premise that we have information from the Department of Public Health and it is focused mainly around suspected cases, and the idea is to try to do fogging around that case a number of times - a quarter mile radius," he said.
"The idea is, if there are any infected mosquitoes, to knock the infected mosquitoes down. But we are fogging during this period for more than just Zika related issues.
"We are also fogging the island systematically and so we have two programmes going, one for pest mosquitos and one in relation to suspected Zika cases. So once we get the information, that area will get focused attention and then you will have fogging or ULV application throughout the island," he added.
Mr Thompson implored residents to do their part in preventing the spread of the Zika virus by limiting "breeding grounds" for the Aedes aegypti mosquito.
He told The Tribune: "Those buckets, old tyres, any container that can hold water - those are the things we need to eliminate around our homes. That is the best and leading way to stop the spread of this virus. Stopping the breeding elements for mosquitoes is the best way to ensure that Zika never affects the Bahamas."
The Pan American Health Organisation has received notice of the virus' presence in over 20 countries in the Americas, including Brazil, Barbados and Haiti to date. The virus has been reported in the United States, but only from travellers returning from countries where the virus is prevalent.
At the weekend, five cases of Zika infection were confirmed in Turks and Caicos Islands.