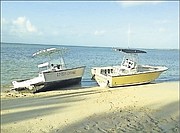 By DENISE MAYCOCK
Tribune Freeport Reporter
dmaycock@tribunemedia.net
A RASH of boat thefts in Abaco in the past week are causing such concern to frustrated residents that they are threatening to take matters into their own hands to stop the culprits.
The thefts are under police investigation but no arrests have been made so far.
Inspector Terecita Pinder, police press officer, told The Tribune that police had received several reports of boat thefts and had recovered four of the stolen vessels last week.
But according one concerned resident seven vessels were stolen in Hope Town and Marsh Harbour in a period of six days. Two of those stolen on Sunday were found stripped of their Yamaha engines at Casuarina Point, Abaco, on Monday. On the night of July 19 alone, five vessels were stolen.
Boat thefts have been a vexing problem on Abaco for many years, and residents feel that there is a lack of urgency by the police when they are reported.

In one instance, a resident told The Tribune that their small runabout was launched at Hope Town and stolen within hours. An aircraft was mobilised with spotters and the vessel was found. With an armed policeman, the boat was recovered but as they approached a suspicious white van it sped away.
The Marsh Harbour police was phoned to give the information about the van only to be told that officers were too busy and they "didn't have time for that".
Insp Pinder confirmed that police have not made any arrests in connection with any of the four vessels that were recovered.


Abaco and its cays are a popular spot for boaters and it is feared that the ongoing thefts could deter visiting boaters from coming there or to The Bahamas.
The Hope Town District Council described the ongoing boat thefts as a "growing crisis".
According to a statement issued by the Council, "the district of Hope Town, Man-O-War and Great Guana Cay (and other outlying cays) are targeted due to the high volume of boaters that frequent our area, due to the highly sought after tourism product that we offer."
The council said that tourism and the livelihood of a large percentage of Abaconians are under a serious threat because of the plague of boat thefts.
"We feel helpless as the arms of our government are not functioning to combat this grave threat to our number one industry. No action has been taken. If the government is not willing to prioritise this, then can we, the people, demand the right to bear arms (as stated in the 2nd Amendment of the US Constitution) to combat these thugs ourselves?
"Isn't the government's first priority to protect its citizens and their properties? If the government is not interested in making this a priority, step aside. We will."
The Council claimed that about a year ago a few of the thieves were caught red handed and were later granted bail by the courts, and to date nothing has become of the cases.
"When are we going to stop rewarding criminals for their despicable acts of criminal activity? The judicial system is broken and needs a complete overhaul. We are not trying to be political, because this crisis has continued from one administration to the next; however the current administration is at the wheel and we seek their intervention.
"We cannot help but to think of the corruption running rampant within this boat theft ring. We feel that due to the apparent lack of action that there could possibly be a strong possibility that some of those who are responsible for protecting us are likely to be very much in the inner circle of these crimes. Why is this being ignored? Why isn't anything being done about this?"
The Council said they have not heard any of the elected parliamentary members make statements on the boat crisis in Abaco.
"We are on the verge of taking drastic measures to safeguard against the annihilation of our livelihood. But we would rather that the Royal Bahamas Police Force do its job and due diligence and arrest these thugs and that the judiciary act and bring down stiff penalties to all offenders," the statement said.