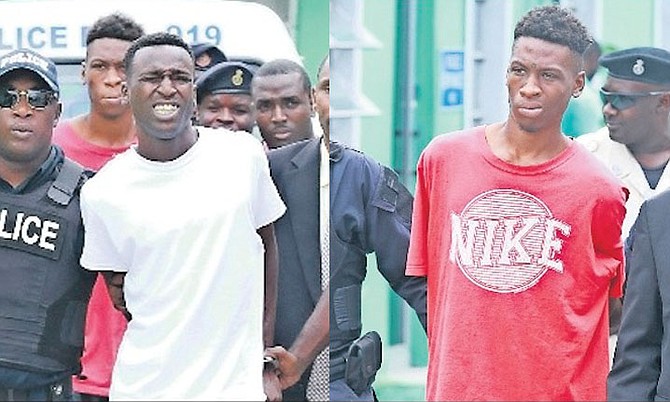 By LAMECH JOHNSON
Tribune Staff Reporter
ljohnson@tribunemedia.net
THE alleged culprits behind the home invasion and gunpoint robbery of a well known psychiatrist were arraigned in Magistrate's Court yesterday.
Leonard O'Brien, 19, and Wilson Lacroix, 20, were flanked by armed policemen as they were escorted into the Nassau and South Streets complex to stand before Deputy Chief Magistrate Constance Delancy on charges of housebreaking, armed robbery and receiving.
It is alleged that the pair, sometime on July 26, broke into Dr David Allen's home.
The armed robbery took place around 6.30am at Dr Allen's West Bay Street home. Dr Allen's daughter and grandchildren were also at home during the invasion, however no one was physically harmed.
It is alleged that they, while armed with a handgun, robbed Dr Allen of a $1,500 gold Cuban link chain, a $200 gold Seiko watch and a 32-inch TV set valued at $250.
The men are also accused of robbing Marie Allen Caroll of $100 cash, an American passport, a Land wallet that contained bank cards, her Bahamian driver's license, a PlayStation 4 gaming console and assorted games worth $650, and $1,200 Mac Book Pro laptop and two jewellery boxes that contained $300 worth of assorted jewellery.
Concerning the lesser charge of receiving, it is alleged that the stolen jewellery boxes were found in their possession.
O'Brien, of Market Street, and Lacroix, of Soldier Road, were then charged concerning another home invasion and gunpoint robbery on Fox Hill Road that allegedly occurred three hours before the first incident.
In this arraignment, they were charged with burglary, armed robbery and receiving.
It is alleged that around 3am on July 26, they broke into the house of Dwight Rolle and robbed him of a 2005 Toyota Carolla worth $6,000, a Claro PDC cellphone worth $130 and $10 cash.
They also are accused of being found in possession of all the items relating to the Fox Hill home invasion.
O'Brien and Lacroix were told by the deputy chief magistrate that their matters would be fast-tracked to the Supreme Court for trial when they return to court on August 30.
She said they would only be allowed to enter a plea to the allegations in both cases when they are formally arraigned before a Supreme Court judge.
In the interim, she added, they would be remanded to the Department of Correctional Services without bail. However, they were informed of their right to apply for a bond to the higher court if they desired pre-trial release.
Before they were taken from the courtroom to await transport to prison, their lawyer Glendon Rolle relayed complaints on their behalf concerning the alleged abuse they received while in custody at the Central Detective Unit.
The pair, he alleged, were punched, slapped, kicked and suffocated with plastic bags being put over their heads.
The court ordered they be medically examined and a note of the allegations be put on their files.