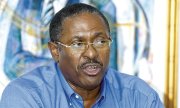 By AVA TURNQUEST
Tribune Chief Reporter
aturnquest@tribunemedia.net
AMIDST the high drama at the Free National Movement national convention, Progressive Liberal Party Chairman Bradley Roberts released a series of missives tackling claims made by Thursday night's speakers.
Defending his party's governance, Mr Roberts charged that Long Island MP Loretta Butler-Turner's speech was mediocre at best and surmised that East Grand Bahama MP Peter Turnquest was "chasing his own shadow".
"It is clear that Butler-Turner's blind ambition to become prime minister eclipses her ability and capacity to get things done," he said.
"Her record of undermining leadership, sowing seeds of discord and a lacklustre record as a Cabinet executive are all transparent testaments to mediocrity and are sure to hold her accountable in the court of public opinion."
Mr Roberts continued: "Her attacks on the PLP are laughable as the PLP can show workable and working strategic plans to address the myriads of complex challenges facing the Bahamas. Loretta Butler-Turner's FNM cannot do the same. She can deflect…she is good at political bluster, misleading the public, stealing PLP policies and vitriol, but she has not articulated viable plans."
Mr Roberts went on to assert that the Long Island MP was ineffective in her Cabinet post as the Minister of Social Development under the former Ingraham administration.
Regarding Mr Turnquest, Mr Roberts advised that the East Grand Bahama MP and the FNM must not re-write history because of their failure to "generate messaging to capture the attention of the Bahamian people".
Mr Roberts said: "They should instead apologise to the Bahamian people for the dismal state they left this country in, not just in 2012, but also in 2002.
"This is the same wrecking crew who opposed national youth service, and who two decades later cancelled Urban Renewal as a testament to their crime-fighting legacy.
'This is the same crew who butchered the original plans for Baha Mar, spitefully scared away investors, putting the country in the dilemma of faulty deals on the eve of the worst recession since the great depression because they lacked a coherent investment policy. The result was a disaster with record debt, record unemployment and an economy in a 'wheelchair' where the misery index was off the charts."
Education Minister Jerome Fitzgerald also released a statement last night, challenging FNM candidate for Carmichael Desmond Bannister his party's record on education.
"I listened with amusement as my predecessor Minister of Education Desmond Bannister spoke about the FNM's record in education," Mr Fitzgerald said.
"He bragged of the FNM building 17 schools. I would like to help Mr Bannister because it would seem that his short hiatus from public life has taken his recollection of the facts. There are 172 government schools throughout the Bahamas. A simple mathematical calculation will confirm that the PLP built 155 or 91 per cent of these schools," said Mr Fitzgerald.
"Education is the key that will unlock that door of success for our children and grandchildren. It should not be taken lightly; I do not take it lightly. This administration has demonstrated its commitment to education. I am disappointed that instead of being a part of the solution, Mr Bannister has decided to use education as a political football. How unfortunate and sad!"