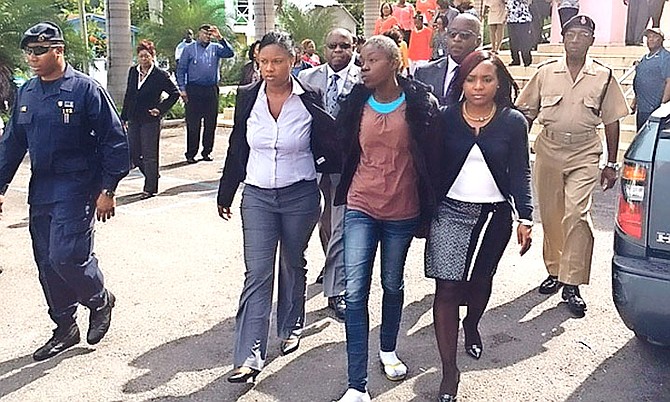 By LAMECH JOHNSON
Tribune Staff Reporter
ljohnson@tribunemedia.net
A WOMAN accused of killing ZNS radio broadcaster Scott Richards and stealing his iPhone during a gunpoint robbery was arraigned in Magistrate's Court yesterday afternoon on murder and armed robbery charges.
However Raquel Johnson, 30, of Plantol Street was not charged with aggravated murder and therefore would not face the death penalty if convicted at the end of trial.
A crowd of Richards' friends and colleagues shouted "Justice for Scottie!" as police escorted Johnson through the Nassau and South Streets court complex to stand before Chief Magistrate Andrew Forbes concerning the May 26 fatal shooting.
Before proceeding with the arraignment, the chief magistrate asked Johnson if she had a lawyer. She said she had not.
She was then told that she would not be allowed to enter a plea to the allegations until she was formally arraigned in the Supreme Court after the case is transferred by way of a voluntary bill of indictment (VBI).
Johnson was charged with armed robbery where it is alleged that she robbed Richards of a $300 iPhone 3G and murder under Section 291 (1)(B) of the Penal Code.
A charge under this section does not attract the discretionary death penalty if a conviction is reached at the end of the trial.
The 2011 amendment to the Penal Code, which followed the Privy Council's decision in the Maxo Tido decision, notes that only certain types of aggravated murder are currently punishable by death. These include murder of a law enforcement officer; murder of a judicial officer, including judges, registrars and prosecutors; murder of a witness or juror; murder of more than one person; murder committed by an accused who has a prior murder conviction; and murder in exchange for value.
The amendment further provides that any murder committed in the course of/or in furtherance of a robbery, rape, kidnapping, terrorist act, or any other felony is punishable by death, with no explicit requirement of intent to cause death.
According to initial police reports, on Thursday, May 26, officers from the Carmichael Road Police Station were on routine patrol near Bonefish Pond when they found Richards' body about 100 feet away from a grey Durango vehicle.
Richards was a radio announcer for ZNS Inspiration 107.9 FM.
The chief magistrate told Johnson that her case would be fast-tracked to the Supreme Court on June 27 at her next Magistrate's Court appearance.
She was remanded to the Department of Correctional Services without bail, but was informed of her legal right to make an application to the higher court for pre-trial release.
"Any questions Ms Johnson?" the chief magistrate asked.
"No, sir," the accused replied before police took her to await the prison bus.