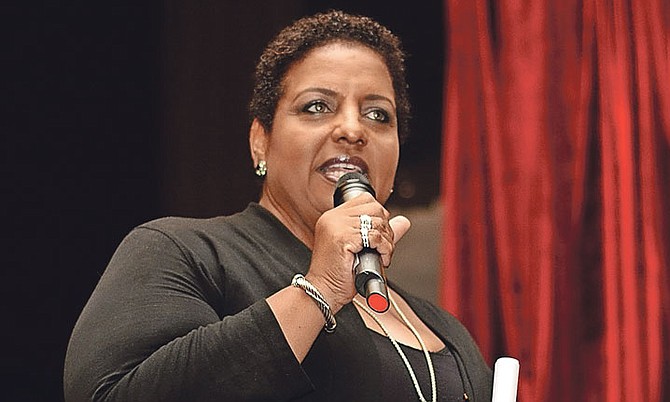 By SANCHESKA BROWN
Tribune Staff Reporter
sbrown@tribunemedia.net
LONG Island MP Loretta Butler-Turner said the low voter turnout for gender equality referendum's advance poll was a "clear and frightening" indication that the majority of the Bahamian electorate is either "confused or disengaged" because of the many "different stories" associated with the vote.
In an interview with The Tribune, Mrs Butler-Turner said she believes the opinions from civic, political and religious leaders have turned people off from voting. She is encouraging all Bahamians to exercise their right to vote even if they plan on voting "no".
"I noted the low voter turnout and I believe it is because of the inaccurate information that has been given out by religious leaders, political leaders and civic leaders," Mrs Butler-Turner said.
"All the different stories have not helped the process. I cannot knock anyone for their beliefs if they are speaking facts. But when people spread misinformation about what the referendum is truly about, that is what bothers me. If someone has the facts and makes a recommendation I cannot take an issue with that.
"These people must be honest and fair with the public because people are looking for direction. As far as I understand, this referendum is in the best interest of the country. It will allow our nation to develop and allow our citizens to be equal and so having said that I would admonish leaders and people who are being looked up to, to speak the truth.
"If this continues to happen, the end result of the referendum will not be a reflection of the majority of Bahamians, 43 per cent is very low. "Bahamians generally always participated in elections about 80 per cent, so that low percentage is frightening."
Mrs Butler-Turner said everyone should be a part of the process and she will continue to do her part in "encouraging people" to vote "yes".
On Monday, Parliamentary Commissioner Sherlyn Hall said only 43 per cent of the people eligible to vote at the advance poll in New Providence turned up. There was a high voter turnout at the polling station in London and 16 of the 21 eligible voters in Miami voted, he said.
However, he said, the people who were on the register for the advance poll and did not vote will still get a chance to vote during general voting next Tuesday.