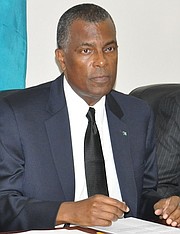 By SANCHESKA BROWN
Tribune Staff Reporter
sbrown@tribunemedia.net
BISHOP Walter Hanchell has accused Minister of Foreign Affairs and Immigration Fred Mitchell of "bullying, deceiving, and demeaning" anyone who opposes the constitutional referendum.
Bishop Hanchell, chairman of the group Citizens for Justice, said proponents of the 'no' vote have been called ignorant, stupid, unchristian and homophobic just for "having a difference of opinion".
"Now Fred Mitchell has said that pastors who oppose these wicked bills are frightening and deceiving people as if people do not have a mind of their own to choose," Bishop Hanchell said in a statement.
However, he accused the YES Bahamas campaign of "deception" and attempting to "brainwash the weak among us" through its frequent television and radio ads.
"Rather than attack the gatekeepers of our nation, Mr Mitchell needs to stop bullying, deceiving and demeaning those who have a right to disagree with these bills placed before the Bahamian voters," the statement said.
"This is the same Fred Mitchell who in 2002 angrily told Bahamians to vote 'no' in the gender equality referendum because Article 15 ensures that men and women are equal and the referendum is unnecessary. If it was true then, it is true now."
Bishop Hanchell also rejected that claim that women in The Bahamas do not have equal rights and also said that "most women" do not want to be equal to men.
"Nobody can honestly say that women in The Bahamas do not have equal rights as men. To the contrary, our laws favour women in this area. There is absolutely nothing a woman cannot do or have in The Bahamas that is available to men," he said.
"The playing field has already been levelled. Women are equal with men but function in a different role. While certain countries have promoted general equality, gender neutrality has evolved. Most women do not want to lose their difference and in The Bahamas, most women value the headship of men, not the dominance and do not want to be like a man as clearly communicated by Dame Joan Sawyer."
Last Wednesday, Mr Mitchell spoke out against religious leaders opposing the four referendum bills, claiming that their "deceptive campaign" against the gender equality vote is "a sin".
He also insisted that some pastors are using "false stories" to frighten Bahamians into voting against their "own interest".
The Fox Hill MP implored his constituents to vote "yes" to all four questions on the ballot, asserting that success of the referendum would be in the best interest of all Bahamians.