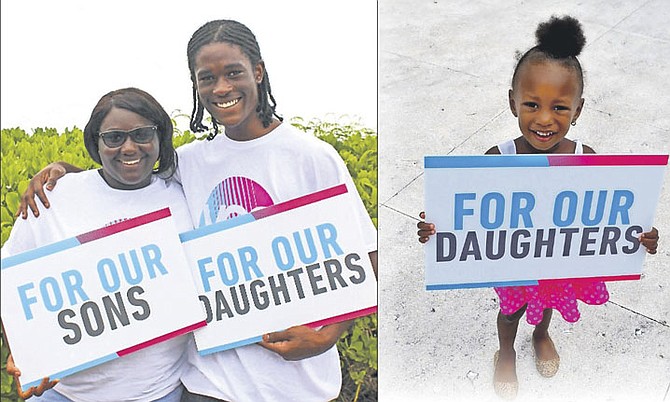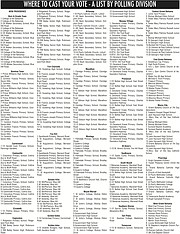 The wording of the four Bills in the Constitutional Referendum
Bill 1: Approval of alteration to Article 8 and the repeal of Article 9 of the Constitution.
Do you approve of The Constitution (Amendment) Bill, 2014?
Under the proposed change to the Constitution, a child born outside of The Bahamas would, after the coming into operation of this amendment, become a Bahamian citizen at birth if either its mother or father is a citizen of The Bahamas by birth.
Yes [ ] No [ ]
Bill 2: Approval of alteration to Article 10 of the Constitution.
Do you approve of The Constitution (Amendment) (No 2) Bill, 2014?
Under this proposed change to the Constitution, the foreign spouse of a Bahamian citizen would, after the coming into operation of this Article, be entitled to apply for and obtain citizenship subject to satisfying:
(i) existing national security or public policy considerations; and
(ii) new provisions guarding against marriages of convenience.
Yes [ ] No [ ]
Bill 3: Approval of alteration to Article 14 of the Constitution.
Do you approve of The Constitution (Amendment) (No 3) Bill, 2014?
Under this proposed change to the Constitution, a Bahamian father of a person born out wedlock after the coming into operation of this amendment would be able to pass his citizenship to that person subject to legal proof that he is the father.
Yes [ ] No [ ]
Bill 4: Approval of alteration to Article 26 of the Constitution.
Do you approve of The Constitution (Amendment) (No 4) Bill, 2014?
Under this proposed change to the Constitution, it would be unlawful to discriminate based on "sex", which would be defined as "being male or female".
Yes [ ] No [ ]
Malcolm J Strachan urges Bahamians to ignore the fear, bigotry and hatred swirling around the Constitutional Referendum . . .
In the final days and hours before tomorrow's gender equality referendum, rumours are spreading like wildfire.
Some say there is a hidden agenda to bring gay rights to the Bahamas in order to ease international pressures. Others believe the government has secretly switched the order of the Bills to confuse voters. The political voices are shouting over each other and with such noise it can be hard to separate reality from fiction.
We owe it to ourselves and our young democracy to take a step back and calmly examine the reality of what these bills will do and who they are for.
No hidden agenda
The idea of a hidden agenda has been particularly prevalent in recent days, with this theory gaining backing from such voices as Dame Joan Sawyer. But those who believe this rumour seem to forget the lengthy process that brought us to this point.
The Constitutional Commission, which had members appointed by both political parties, worked for years to gain consensus and accommodate different views and concerns. They conducted literally hundreds of public meetings and information sessions before and after the bills passed in Parliament. The process has been transparent and collaborative from the start, and in the words of Barrington H Brennen, "the bills position the Bahamas as a constitutionally balanced nation".
Support
In order for there be a hidden agenda behind these amendments, either the many leaders who have endorsed the bills are all in on the conspiracy, or some of our finest legal and religious minds have had the wool pulled over their eyes.
The list of those who support the referendum is extensive, including Founding Fathers Sir Arthur Foulkes and Sir Orville Turnquest, the College of The Bahamas, Former Chief Justice Sir Michael Barnett, Thomas Evans QC, Alfred Sears QC, Wayne Munroe, QC, Fred Smith, QC, Archbishop Patrick Pinder of the Roman Catholic Church, Bishop Laish Boyd of the Anglican Communion, Reverend Dr William Thompson of the National Baptist denomination, Bishop Neil Ellis of the Global United Fellowship, and Bishop Franklin Ferguson of the Church of God of Prophecy. Regardless of whether voters support these bills on their merits, do we really think all these individuals are behind the same conspiracy?
No changes to the order of the Bills
The concern about changing the order of the amendments is a ludicrous last ditch effort at creating controversy where none exists and is very, very easy to clear up. It is a matter of law that the amendments must go before the people in the same order and language as they passed through both Houses of Parliament. We will vote on exactly the same Bills that were passed unanimously in Parliament in February.
For the unconvinced, the simple solution is for voters to take a moment to study the text of the amendments so that they can adequately vote on the question at hand regardless of the order they are presented. The full text of the amendments is re-printed here and they can also be found on the Constitutional Commission's website, constitutionalcommission.com.
Simply summarised, the first three Bills would change the Constitution so that Bahamian men and women would have the right to share citizenship with their family members in the same way. The fourth bill would give Bahamian men and women the right to be treated equally under our nation's laws. Nothing more, nothing less.
Bill 4 = Equality
There is much anxiety that the fourth Bill will open a door to same-sex marriage. These fears are rooted in a desire to protect our small, Christian country from an outside culture and way of living. This is a reasonable concern as the world around us is changing rapidly, in ways many Bahamians are not ready to accept onto our shores.
However, in this case the concerns are unfounded and, in fact, this change does more to protect our Christian values than leaving it the way it is.
Many legal scholars say that if Bill 4 does not pass, we can expect to see one day a challenge to our current marriage law based on the word "sex" in Article 15. If Bill 4 does pass, we will have given new protection to our marriage law, by defining "sex" for the first time in the Constitution, to mean "male or female", so that no judge could ever decide to define "sex" as "sexual orientation". And by putting the word "sex" in Article 26, instead of just leaving it by itself in Article 15, we activate the special protection for marriage that exists in Article 26(4)(c). Bill 4 adds two new forms of Constitutional protection for traditional marriage in the Bahamas, a fact those against the referendum seem to have conveniently forgotten.
This 'issue' over Bill 4 was also addressed by the Prime Minister. Perry Christie said he understood the concern about same-sex marriage, but as a lawyer for more than 40 years, he would not be supporting the bill if it would lead to same-sex marriages in the Bahamas.
"I don't believe in it," Mr Christie said, "and my government doesn't believe in it so it's nonsense to speak about backdoor entry to same-sex marriage. My government has gone to great lengths to ensure that a yes vote would mean exactly what we say, a move to ensure that our sons and daughters are equal in the eyes of the Constitution."
Politics
For all the politicisation and rhetoric that has been swirling around us in recent weeks, it can be tempting to vote no to teach politicians a lesson. But we should not forget the many Bahamian families whose lives will be affected by these bills. Our country's leaders will be fine no matter the outcome of tomorrow's vote. But for the children who cannot claim Bahamian citizenship or the women who cannot pass citizenship to their spouses simply because they are women, there is much at stake.
This should have been the overriding concern for the Leader of the Opposition over the last few weeks as well. After having publicly voted in favour of the Bills in Parliament, Dr Hubert Minnis now appears to be wavering, attempting to use 'sleight of hand' tactics to quietly promote a 'No Vote' for political purposes. We know Dr Minnis may well be in his last days as Leader of the Opposition, but he should at the very least embrace this opportunity to be on the right side of history for equal rights amongst men and women.
The Bahamian people expect and demand leaders who will stick by their word, and stand when it matters. It's easy to run and hide from the tough fight - but you must stand, even if you stand alone.
The MP for Long Island, Loretta Butler-Turner signifies this courage that the people need. "This referendum is a test to our commitment to freedom and equality," she said. "The notion that question 4 is somehow a pathway to same-sex marriage is indeed a red herring. It is plainly wrong."
Vote Yes for our future
In closing we would like to now turn our attention to the most important voices in this entire matter - yours, the voter. It is time to close our minds to the fearful rhetoric surrounding us and learn why these Bills matter. As discussed, all four Bills have received wide support from political and religious leaders throughout this country. Tonight, some of those religious leaders will be in Rawson Square to speak with regular Bahamians and address why they support the bills. If you are unsure of how to vote, we encourage you to make your way there and speak with the likes of Bishop Ross Davis, Father D'Angelo Palacious, Reverend Kenris Carey and others.
We must not let fear, bigotry and hatred cripple us into non action. On Tuesday, vote not out of a sense of fear or frustration, but out of a sense of support for the many Bahamians whose lives will be affected by these bills. Vote for your sons and daughters. Vote for yourself. Vote for your future. Vote for a Bahamas in which men and women are equal.
• Comments and responses to insight@tribunemedia.net