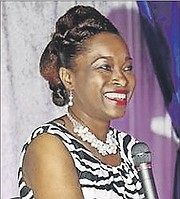 By ALESHA CADET
Tribune Features Reporter
acadet@tribunemedia.net
Bahamian entrepreneur Ria C Newbold is back again with a new workshop focused on helping "Accelerate" new and aspiring small business owners in their respective fields.
The event, to be held on June 25 at the British Colonial Hilton, will highlight and assist people with expanding existing products and services, taking their companies to the next level, networking with other business owners, understanding techniques for developing unique business ideas, and more.
As the CEO and founder of RCN Solutions and the author of multiple business related books, Ms Newbold said it was necessary to create a platform like the "Accelerate" workshop to disseminate information gained through study and experiences.
She said one of the key areas of focus for RCN Solutions the transformation of the lives of Bahamians through education alongside entrepreneurship.
"Unfortunately, there are many persons who undervalue having to participate in training and development sessions as well as getting an education in order to help equip them for the journey of entrepreneurship. Many believe that just coming up with an idea is good enough, when if you have no clue what to do with the idea and how it can be formed into something greater, the potential of that idea is not be realised," she said.
Ms Newbold has pulled off many successful events in this vein; the most recent being a training workshop called "Grow Your Business".
"It was just amazing to see the amount of business ideas that were generated in this one-night session. The feedback was astounding, as the dreams of many were given new life," she said.
The upcoming workshop, she said, "will open people's minds to realise that they do not have to be a copycat, but to step up and embrace their originality which can give them a unique perspective on a business idea."
Oftentimes, I have conversations with people who have a basic idea of what they want to do and they get stuck with only looking at it from one perspective. It is through many one-on-one conversations that these same people are brought the realisation that even with the basis of a simple idea, it can be turned into so much more," she said.
She believes the information, activities and motivation shared at the workshop will "accelerate" the participants' businesses and take them to another level of success. It is her desire to help them see the opportunities that should be embraced for the betterment of the country."