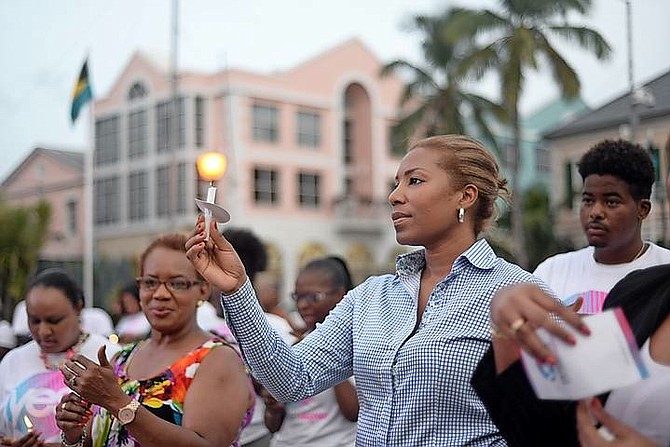 By RASHAD ROLLE
Tribune Staff Reporter
rrolle@tribunemedia.net
IN a final push for support ahead of today's historic constitutional referendum, the YES Bahamas campaign gathered in Rawson Square yesterday evening to pray that Bahamians will vote in favour of amendments that would expand gender equality in this country.
The event brought together a mixture of Bahamians, including Prime Minister Perry Christie who made a late appearance, and Bahamians wearing YES Bahamas t-shirts with the word "volunteer" written on the back, at least two of whom alleged to The Tribune that they were paid as much as $200 to attend the event and would not have been in attendance otherwise.
Pastors like Father James Palacious, archdeacon of administration for the Anglican Church, and YES Bahamas campaign Co-chairs Sharon Wilson and Lynn Holowesko made impassioned pleas for Bahamians to use today's vote to correct constitutional wrongs.
By night's end, the crowd of about 100 lit candles, launched balloons into the air and held hands singing "Go Light Your World," - an emotional end to a mostly low-key event.
"On this day, June 6, 2016, (women) are not equal in our nation's foundational, legal document, our Constitution," Mrs Wilson said. "It is our hope and our prayer that this referendum will change that. It is our hope and our prayer that persons will quietly and in sobriety of all that it represents stop to think of their sister and their brothers as they go to the polls. It is our hope and prayer that…we would wake up to the fact that together we took a step forward for our country. It is our hope and prayer that together we will bring help, we will bring healing to so many families."
Some of those attending the event were sympathetic to the arguments.
One man told The Tribune he will vote 'yes' to all the bills, adding that arguments about same-sex marriage, which have dominated debate about the fourth bill, will not sway him.
"Legally, the doors are always open for same-sex marriage," he said.
"The vote doesn't change that. The ultimate decision will be in London," he added, referring to the Privy Council, the country's final appellate court.

Another woman said she would vote 'yes' to the bills because she supports the government, describing herself as a "PLP for life."
Yet the challenges the government are likely to face today could be gleaned from the reaction of some of the people who traversed Rawson Square as the YES Bahamas campaign held its prayer session.
One woman, Sheryl Rolle, 53, shouted "no" when approached by The Tribune before being asked a question about the referendum.
Echoing a sentiment expressed by many, she said she simply does not trust the government.
"They said they gon' stop crime and give jobs to people and they ain' do that yet," she said. "Why should I believe them?"
Another woman engaged in a lengthy conversation about the bills with former PLP Senator Cheryl Bazard, a member of the YES Bahamas group, who attempted to persuade her to vote 'yes' to the amendments.
When approached by The Tribune, she said she likely won't vote at all.
"I'll never trust a lawyer," she said.
For his part, Father Palacious said he hopes at least some of the bills pass.

"The government is deeply unpopular," he said. "Bill four will certainly fail. But the others have a chance."