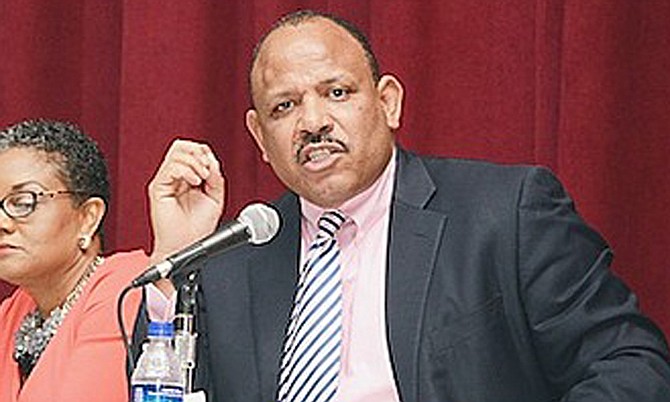 By SANCHESKA BROWN
Tribune Staff Reporter
sbrown@tribunemedia.net
NEWLY appointed FNM Senator Dr Duane Sands, approached to run for deputy leader of the Free National Movement, said he is "not sure" what he will do.
In an interview with The Tribune, Dr Sands said the FNM's convention is "do or die" and he wants to make sure running for any position "is what is best for his political career."
Dr Sands ran for the deputy leader post at the FNM's last convention in 2014, but lost to Peter Turnquest.
The FNM announced last week that it would hold a "full convention" on July 27 - 29 at the Melià resort.
The decision was made during an executive meeting called on Thursday night to quell discord among the party's parliamentary caucus.
"I have made no decision yes or no," he said. "The convention date was just announced a couple days ago and I have not had an opportunity to sit down and determine what role I will play in the convention.
"People have asked me to run but I have made no decision, there is seven plus weeks to go. I ran for deputy leader before and appreciated the support notwithstanding the outcome but I have to decide whether it is the right thing to do for me. This is a do or die situation for the party, but you are going to see people holding things to their chest for a while. Remember Peter Turnquest did not announce he was running the last time until a few days before. People are taking this very seriously and are going to give it their all. We need this convention to put everything behind us and to focus on winning the country. We do not need distractions so we will get through this and spend the better part of the year providing people with a viable, reasonable alternative to the PLP."
Nearly two weeks ago, six of the FNM's ten MPs gave Dr Minnis an ultimatum: call an early convention or they would write to Governor General Dame Marguerite Pindling to have him constitutionally removed as leader of the Official Opposition in Parliament.
Dr Minnis has downplayed the threat, telling The Tribune last Monday that he "has never felt so good" and is not concerned about the "noise in the market."
However, last Thursday a seemingly despondent Dr Minnis shunned reporters on his way out of the FNM's Mackey Street headquarters.
When asked if the decision to hold an early convention would end persisting infighting throughout the ranks of the FNM, the Killarney MP flashed a smile, squeezed through a crowd of party supporters and left the meeting hall.