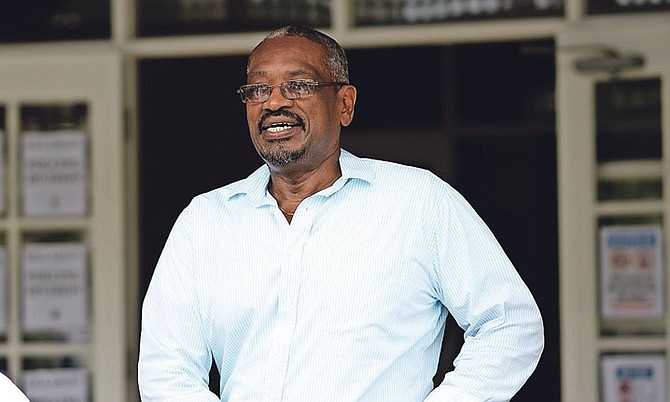 By SANCHESKA BROWN
Tribune Staff Reporter
sbrown@tribunemedia.net
FNM Leader Dr Hubert Minnis said the country's overwhelming rejection of the proposed changes to the Constitution yesterday is proof that the public no longer "trusts the Christie administration".
Dr Minnis told The Tribune last night that he "had an idea this would be the outcome" because he does not believe many people understood the questions.
Dr Minnis said the government did a "poor job" educating the public and it has been reflected in the outcome of the referendum.
While the Parliamentary Registration Department only released a handful of results from yesterday's vote, Parliamentary Commissioner Sherlyn Hall told reporters last night it appeared that all four referendum questions had been "overwhelmingly" rejected.

"The people have spoken and we must respect the will of the people. This vote is a resounding rejection of the government. The PLP no longer enjoys the trust of the Bahamian people and what we saw was true democracy," Dr Minnis said.
"I believe persons should have been educated properly. I said to the people read the questions; I want people to understand the issues and absorb as much knowledge as they can. I asked persons to understand what they were being asked and then vote their conscience. I do not believe many persons understood the questions, but the people have spoken. I had an idea of the outcome because people no longer trust the government."
When asked if a government led by the FNM would hold another equality referendum if his party wins the next election, Dr Minnis said: "I would listen to the people."
Meanwhile, Long Island MP Loretta Butler-Turner released a statement on the vote, which said while the results of the referendum reflect the will of the Bahamian people, it is "disappointing" for those who continue to experience constitutional discrimination.
"In a democracy, even though one may disagree with the results of a vote, that vote must stand as the expressed wish of the electorate. It is unfortunate that voter turnout was low," Mrs Butler-Turner said.
"For those who campaigned for a yes vote the results are deeply disappointing. It is also disappointing for those who will continue to experience constitutional discrimination. Still, the work for equality continues. Throughout history the fight for equality often takes generations.
"We still have work to do to ensure equality for all our citizens, including constitutional equality. I continue to hold the convictions I have held regarding the struggle for equality and justice. We must always maintain the courage of our convictions."
Mrs Butler-Turner also agreed that the vote "represents a dire lack of trust in the leadership of Prime Minister Perry Christie and the PLP". She said the government must take responsibility for this failure.
Last night, Mr Hall said the full results of the referendum should be released by Thursday.