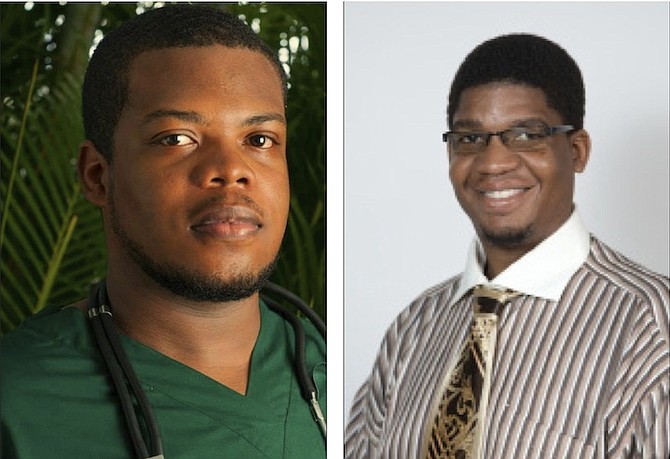 THIS YEAR, 30 ambitious Lyford Cay Foundation scholars will graduate with their college degrees.
For most scholars the road to achieving post-secondary education is full of hard work, sacrifice and financial planning.
De'yanza Hanna and Mychael Hart are two scholars who are looking forward to returning to the Bahamas and making an impact.

Mr Hanna, of Abaco, was the head boy of Abaco Central High School before going to study biology and chemistry at the College of The Bahamas. After gaining experience in the field as a veterinary assistant at Palmdale Vet Clinic, and as a volunteer with the Bahamas Humane Society, he applied for a Lyford Cay Foundation scholarship to assist with paying for his education at the University of the West Indies in Trinidad and Tobago.
While in college, he expanded his veterinary knowledge by participating in a community-based spaying and neutering programme. Mr Hanna will graduate this month and looks forward to returning to the Bahamas and working in his field, educating pet owners on proper pet care. Ultimately, he would like to open his own veterinary clinic in Abaco.
"Veterinary school was no walk in the park," he said. "The work can be very challenging at times and the exams were brutal. Financially, I was unable to do it alone, but with the help of my family, the Lyford Cay Foundation and the Abaco Pathfinders, it was possible."
Mr Hart, from New Providence, was graduated from Aquinas College. He then enrolled in the Bahamas Technical and Vocational Institute. His keen interest in the automotive industry led him to enrol in the New England Institute of Technology to pursue a bachelor's degree in automotive service management.
"I can say that it wasn't easy with all of the studying and the work, but having the chance to study abroad is a great opportunity," he said. "There is much to learn and to absorb. What I've learnt from this experience is that studying takes a lot of hard work, dedication and determination in order to achieve success. I believe the knowledge, training and experience I've gained will give me an advantage that will help me to improve the outlook of the automotive industry in the Bahamas."
Mr Hart was graduated in March, and is currently gaining more hands on experience in his field. His future goals include obtaining a certification in heavy duty diesel engines and equipment that will allow him to advance in the transportation industry.
"Our scholarships programme helps to create opportunities for students who are interested in pursuing both academic studies and technical trades. We are eager to assist students who want to study in fields that are greatly needed in the country," said Maureen French, managing director of the Lyford Cay Foundation.
"The Foundation looks forward to seeing the wide impact that these 30 scholars will have on industries throughout the country."