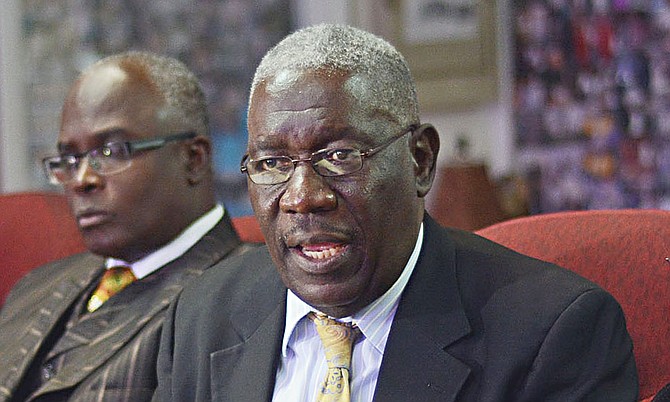 By RICARDO WELLS
Tribune Staff Reporter
rwells@tribunemedia.net
PROMINENT religious leader Bishop Simeon Hall said yesterday that Bahamians' humanity is receding as the government continues to sidestep policies capable of impeding the current surge in crime.
Speaking to The Tribune in the wake of the shooting deaths of three men on Sunday, Bishop Hall called for the implementation of draconian measures to
"restore balance and order to the lives of everyday Bahamians".
The murder count for 2016 up to press time stood at 56, according to The Tribune's records, meaning 514 homicides have occurred under this administration in a little over four years.
From May 7, 2012 to December 2012 there were 70 recorded murders. In, 2013 police recorded 119 murders. In 2014 and 2015, police recorded 123 and a record 146 murders respectively.
On the 2012 campaign trail, the PLP erected billboards throughout New Providence which read "Under the FNM government 490-plus murders". This was for a five year period.
Bishop Hall, the pastor emeritus of New Covenant Baptist Church, said his heart, mind and spirit were "all troubled" by the "silence" of the country's political leaders, the "everyday response" from citizens and the "heartless disregard" being shown by criminals.
He was speaking directly to the shooting death of a church minister at a Jerome Avenue ATM early Sunday morning.
"Where does this thing end man? We have a wall in our church where we commemorate persons killed in the country, it is just June and that wall is nearly filled," Bishop Hall said. "I know there is no right way to say how I feel about that, it hurts me all the way to my soul."
Ivan Cleare, a minister at New Bethlehem Baptist Church on Independence Drive, was identified as the victim of Sunday morning's shooting, one of three persons killed that day in two separate incidents.
Bishop Hall said he knew Mr Cleare, adding that he was traumatised by the ordeal.
"Going to an ATM; you should feel safe doing that. The laws are no longer enough to hinder crime. This is a nightmare, one that I pray ends sooner than later. Every so often the government says something new will take place to confront this nightmare but nothing is taking place. I see no changes. All I see is more lives being lost. I don't think enough is being done to end this."
In regard to safety at ATMs, he called for armed guards to be employed and stationed at all banking facilities around the clock along with added surveillance.
With respect to overall crime, Bishop Hall said the government must enact a "three-strike" system, stressing that criminals are taking advantage of a lax system, "committing minor crimes to no end."
"Three strikes and you are out. That is the approach we need to take. They are committing crime after crime, spending a short time in jail and once out, they do it again. After three offences you should be put away for life.
"We as a country are beginning to walk a tight-line. Crime happens so often that it has now become a matter of fact thing now. We can't become settled or comfortable with criminality. We can't cover it up. Part of being Bahamian means that you now have to take a risk and do your part to end this nightmare."
Just 12 hours after Mr Cleare's murder, police were called to the scene of a double homicide on Adderley Street, where two men were standing outside when they were shot.
One of the victims was identified by a relative as Sammy Rolle, a construction worker in his 30s, who lived in Fox Hill. A relative said Mr Rolle, who had several children, was not known to be a troublemaker. The family member said Mr Rolle may have been "caught in the wrong place at the wrong time" when he was fatally shot.
The other victim, known by his nickname "Smokey", frequently hung out "on the blocks" near Adderley Street, residents told The Tribune.
In addition to the spate of homicides, police over the weekend reported 10 armed robberies, seven of which occurred in less than 24 hours.