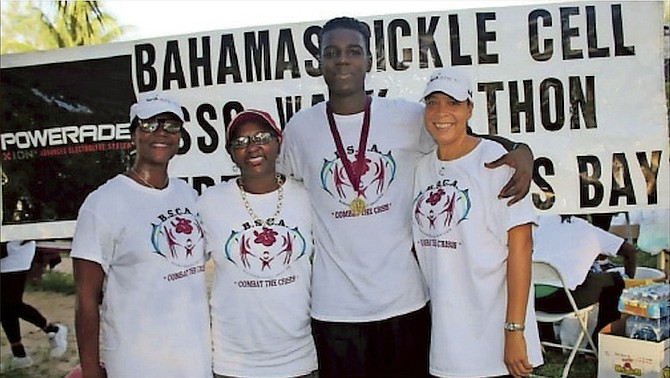 By JEFFARAH GIBSON
Tribune Features Writer
jgibson@tribunemedia.net
The Bahamas Sickle Cell Association will take a more in-depth look at a group of genetically passed down blood disorders during a special forum tomorrow.
"A Deeper Look Into Sickle Cell Disease: Exploring the Different Forms of Sickle Cell Disease" is the name of the forum to be held at J Whitney Pinder Building on First Terrace and Collins Avenue, starting at 6.30pm. The general public is invited to attend, especially persons with sickle cell disease, as well as parents, teachers, caregivers, healthcare providers of those with the condition.
The forum will feature a panel of persons that have different forms of the disease, as well as Dr Patrick Roberts, founder of the Bahamas Sickle Cell Association (BSCA).
The panel will discuss their experiences with the disease and Dr Roberts will define the different forms of sickle cell anaemia and answer questions from the audience.
BSCA hosts quarterly educational forums to not only raise awareness about the disease, but also to educate the public about what sickle cell really is.
"There is a general lack of knowledge about the disease and we wish to host this forum amongst many others to educate and eradicate," said Dianelle Ferguson, member of the association.
Persons attending the forum will be exposed to information about what it truly means to live with sickle cell disease and also get a deeper understanding of what the disease really is in terms of symptoms, effects, and treatments.
According to the association, the last poll conducted in 1987 revealed that one in 100 suffer from the disease and one in 400 has the sickle cell trait. A registry will be introduced to the general public shortly so that critical data can be collected and continuously updated. The registry will be a source for the association to petition stakeholders to support persons affected by sickle cell disease.
Currently, there is no available cure for sickle cell in the Bahamas, Ms Ferguson told Tribune Health.
"There have been a few cases in the United States where there was the successful eradication of sickle cell disease through a bone marrow transplant. This form of treatment means having to find a particular donor match and it is very costly," she said.
Persons are advised to seek professional help to receive treatments. Pain medications, oxygen and blood transfusions are a few forms of treatments that are administered by health professionals locally.
"We want the public to know that sickle cell disease is very serious, life-long illness that affects a significant number of our population. We want the Bahamian public to know that we are committed to ensuring that individuals and families affected by this disease have a body willing to advocate for their needs and to offer support in any way we can. Education on the subject of sickle cell disease and the options available for support and treatment is one of our main platforms," she said.
For more information, contact bahamassicklecell@gmail.com, or visit the association's Facebook page or website at www.bahamassicklecell.org.