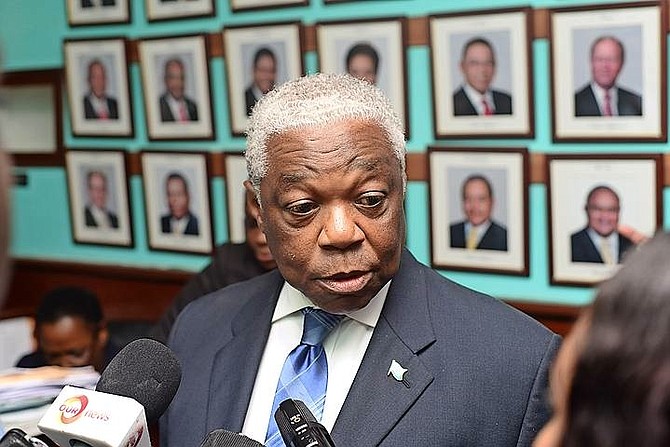 By KHRISNA VIRGIL
Tribune Staff Reporter
kvirgil@tribunemedia.net
THE day after three men were slain in the capital in two separate shooting incidents, National Security Minister Dr Bernard Nottage had very little to say when he was questioned on the government's approach to arrest violent crime in the country.
"We are constantly monitoring crime in the country. We are constantly instituting strategies and we will continue to do so," Dr Nottage responded when this newspaper questioned him yesterday on the government's strategy to tackle growing crime trends.
Apart from a murder count of 56 for the year, according to The Tribune's records, police have also reported a recent spate of armed robberies, with ten recorded during the past weekend alone.
The government's silence regarding the scourge of crime yesterday sparked criticism from FNM Leader Dr Hubert Minnis, who questioned whether fixing the "crime epidemic" was a priority for the Christie administration. He said by doing nothing, the government is ignoring this festering issue.
Dr Minnis said: "Over the weekend, and tragically, Bahamians awoke to another front page news story of three horrific murders. We are not even halfway through 2016 and there have already been over 50 murders in the Bahamas this year alone.
"The murder rate has continued to rise under this PLP government with the murder rate being over 100 every year under their regime, including a dubious record setting year in 2015. Our people are literally dying in the streets, this government has had four years to address the safety and security of our communities and they have failed at every turn."
"Four years ago, the PLP promised to eradicate crime, but sadly Sunday past, serves as one more example that crime is only getting worse under this government. The crime rate impacts every corner of our society – from families fearful in their homes, to tourists choosing other places to spend their vacation dollars. Where is the urgency on fixing the crime epidemic? This government needs to understand that you cannot fix a problem when you choose to ignore it. Action is required today and the people want to know what this government is prepared to do?"
Under the Progressive Liberal Party, there have been 514 murders in the Bahamas since the 2012 general election according to The Tribune's records, surpassing the "490 plus" under the last FNM administration which was highlighted as part of the PLP's campaign.
Dr Minnis added: "Sadly –- but not surprisingly – the prime minister's recent budget communication proved this government is either ill equipped or not serious about launching a plan to root out crime. Bahamians deserve a government that will stand up for them and take action, the time for broken promises and empty rhetoric from the PLP is over. And soon their failed tenure running the government will be over as well."
This comes after three men were murdered on Sunday, including a church minister, in two separate incidents.
Ivan Cleare, a minister at New Bethlehem Baptist Church on Independence Drive, was shot and killed early Sunday morning while using a Scotiabank automated teller machine (ATM) at Wulff Road and Jerome Avenue. Mr Cleare's lifeless body was discovered shortly after 8am when police responded to a tip they received.
The incident sparked an island-wide manhunt for the killer, leading to the arrest of a suspect hours after the shooting.
Police reported that a handgun was allegedly also found in the suspect's possession.
About 12 hours after this incident, two men, including a father, were shot dead in Fox Hill.
Police were called to the scene of the double homicide on Adderley Street shortly after 9pm, where the two men were standing outside when they were shot.
Yesterday, Fox Hill MP Fred Mitchell released a statement on the killings.
"I am deeply saddened and distressed at these latest killings in the community of Adderley Street which abuts the Fox Hill constituency but which the people of Fox Hill consider part of their own. We must redouble our efforts to stop this and to fight the greed and mindless violence that threatens to sap our national will and weaken our moral fibre.
"I commit myself anew to that task," Mr Mitchell said.

One of the victims was identified by a relative as Sammy Rolle, a construction worker in his 30s, who lived in Fox Hill. The other victim, known by his nickname "Smokey", frequently hung out "on the blocks" near Adderley Street, residents told The Tribune.
On Sunday night, police said they had a person of interest in custody but did not have a motive for the killings.