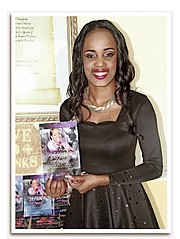 By ALESHA CADET
Tribune Features Reporter
acadet@tribunemedia.net
Whether its under the umbrella of her Felicia Archer Enterprise or her Fresh Fire Ministries, businesswoman and youth minister Felicia Archer is always working to create something purposeful that will inspire people beyond the four walls of the church.
Last Saturday, she had participants singing praises of her latest workshop called "Write That Book".
The event, which sought to equip aspiring authors with the necessary tools and information to get started in the field of writing, took place at the Global Worship Centre in Summer Winds Commercial and Industrial Park.
Those in attendance were given information on how to get started, how to edit and prepare manuscripts, and how to approach agents and publishers.
The event was divided into three parts: writing, publishing and marketing sessions. Writing for those that need assistance in getting started with the writing process; publishing for those that have completed their manuscript but need assistance with publishing their books, and marketing for authors that have already written and published their books but want to take book sales to another level.
Ms Archer, who is an author in her own right, told Tribune Woman that the event met its goals, and she believes the more than 30 participants are now more motivated than ever to write and publish their own books.
Sherika Brown, a Bahamian author entrepreneur and speaker at the workshop, also declared the event a success.
"It was an amazing day at 'Write That Book'; certainly an assignment from heaven," she told Ms Archer via Facebook. "Congratulations Felicia on an enriching event for aspiring and already published authors. Thank you, 'Write That Book'. Yes, I will finish the others."
Another author and speaker at the event, Sharell Carroll, said she is very proud of Ms Archer's success.
"You have moved into a new sphere and success is yours," said Ms Carroll.
Minister Paul Kingsley Ellis Jr thanked Ms Archer for allowing him the opportunity sit on the panel for the workshop and discuss with aspiring authors the path to authorship. He said the day was filled with warm hospitality and excellence.
Additional speakers also included Bahamians authors Malcolm Foulkes, Davrielle Burrows and Dr Dave Burrows. Ms Archer said she specifically handpicked each speaker because their stories cater to different audiences. She said all of their books were written based on real life experiences, which makes their writings unique.
Ms Archer published her first book at the age of 18, after which she founded Felicia Archer Enterprise to inspire individuals outside of the church; working with influential persons to help them discover their God-given purpose, to equip them with strategies needed to becoming 21st century agents of change, and to coach them persons to write and publish their first book.
"I recognised that I attracted many individuals that requested information on how to write and publish a book. I believe that the majority or our population aspires to write at least one book, whether it might be about their life experiences, career experiences, a manual, a fiction or a novel," she said.
Ms Archer said too many times people make excuses for themselves as to why they never finished a book they started; these excuses range from lack of finances or resources to lack of inspiration.
And this was why she hosted "Write That Book" last Saturday, she said.
Ms Archer said she wants the event to have a ripple effect in the country so that other people are encouraged to stop procrastinating and pursue their dreams, whether it's writing a book or starting their own business.
"This is the first time this event is being held, but based on the demand, we will be hosting a part two before the year is out. The late Dr Myles Munroe is my inspiration to host this event. A message he made about two years ago that said everyone should write at least one book before they die, because in doing so it will be preserving their legacy for generations to come. We can see that even though he has passed, his legacy is still alive through his books and his teachings, and even after we have passed it will still be here," she said.
"I see this event blossoming in the near future because I have discovered that sometimes in life all people need is inspiration, information and a coach to simply tell them they can do it or not to give up."