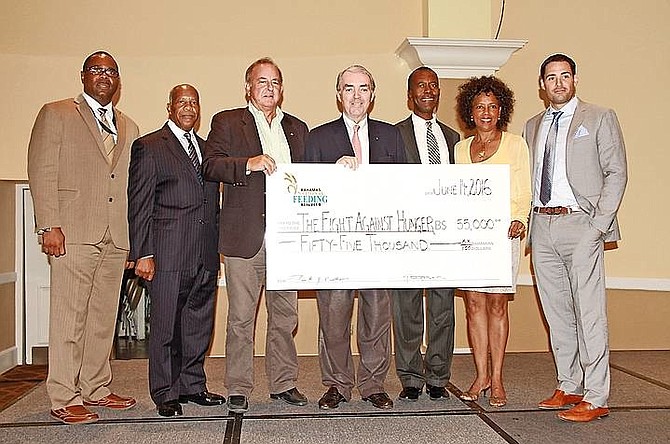 By RICARDO WELLS
Tribune Staff Reporter
rwells@tribunemedia.net
THE Bahamas National Feeding Network (BNFN) yesterday distributed more than $55,000 in food vouchers to its members, allowing scores of soup kitchens, churches and feeding centres to continue feeding efforts throughout New Providence.
In a sombre address to the representatives of many of the core feeding centres that make up the BNFN, founder Frank Crothers said the fact that the organisation has long outpaced its existence proves that it needs to do all in its power to guarantee its efforts do not end.
"There are people who ask me, 'Why do you do this Frank? Why do you give so much to people who could just go out and get a job and feed themselves or ask family for help?'"
"If only it were that simple. The reality is that there are thousands and thousands who fall through the cracks and in a nation of strained resources there is no net wide enough to catch them," said Mr Crothers.
"For every person who isn't trying hard enough, there are 10 more who are or who aim to try and still can't make it. For every person who is hungry, there is a story that will break your heart. And so it is all we can do - each of us has something to give and to share - to help one who has less than we do.
"It is not I who deserve the credit but all of you here today," said Mr Crothers, the ambassador of the Order of Rhodes and Malta. "I donate money, yes, and I care deeply. I am proud to have committed myself to eradicating the pain of hunger. But you, the volunteers who fill this room - you give so much more. You give yourself. Everyday or every week, you volunteer, you are God's unpaid angels."
Yesterday's distribution luncheon marked the fourth such drive by the BNFN since its inception in 2013. To date, the organisation has raised and donated roughly $350,000 to aiding Bahamians unable to provide feed themselves.
The organisation sought to issue 105 voucher packages yesterday. However, that number grew to 110 by the time of the presentation. In total, the BNFN distributed in excess $60,000 in vouchers.
The voucher package offers each feeding centre with a financial allowance to purchase grocery products or supplies that can go towards their activities.
Director of the BNFN, Philip Smith, told The Tribune that as the organisation continues to "up its profile", it has attracted scores of donors that are "fully on board" with eradicating issues connected to hunger.
One such organisation, Humanity United Global Project, insisted that donation would go "a long way in helping."
Chairman of the project, Jermaine Davis said the voucher would go to immediate use in aiding the project to achieve its goals. The Humanity United Global Project provides after school activities and a hot meal to about 100 children through several communities in New Providence.
In 2014, the BNFN donated $30,000 in food vouchers to more than a dozen feeding organisations. On two occasions in 2015 the BNFC donated $40,000 and $100,000 respectively to organisations around New Providence.
Board members of the BNFN include Mr Crothers, Chairman Felix Stubbs, Mr Smith, Peter Whitehead, Shayne Davis, Patricia Hermanns, Sean Moree, Lester Ferguson, Elaine Pinder, Tony Myers and Pastor Timothy Stuart.