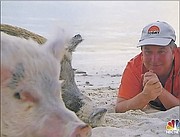 SWIMMING swine were stars of national television in the United States, as NBC's "Today Show" featured the swimming pigs of Exuma on June 14.
"Today" correspondent Kerry Sanders traced the emergence of a colony of pigs on Big Major Cay, Exuma, as one of the Bahamas' popular tourism attractions.
His report dispelled several exotic theories of how the pigs got onto the island and presented interviews with Wade Nixon and Don Rolle, the Exuma residents who first brought the pigs to Big Major Cay.
Their attempt to start a pig farm for food ended up as an attraction enjoyed by thousands of visitors each year.
The NBC report came about through collaborations between the Big Major Cay owners, The Bahamas Film & Television Commission, the Exuma Tourist Office and Bahamian filmmaker Charlie Smith, the director of the short film, "When Pigs Swim".
"More than four million viewers tuned in to the NBC 'Today Show' report," said Clarence Rolle, general manager of the Bahamas Film & Television Commission.
"So that is likely to have endeared our swimming pigs to millions of people. Other television shows such as ABC's 'The Bachelor', the vacation photos of celebrities such as Judge Judy and Dwayne Wade, and even trailers for video games such as 'Angry Birds 2' have made people around the world more aware of our swimming pigs in recent months."
The 'Today Show' report has also been posted to the show's website, today.com.