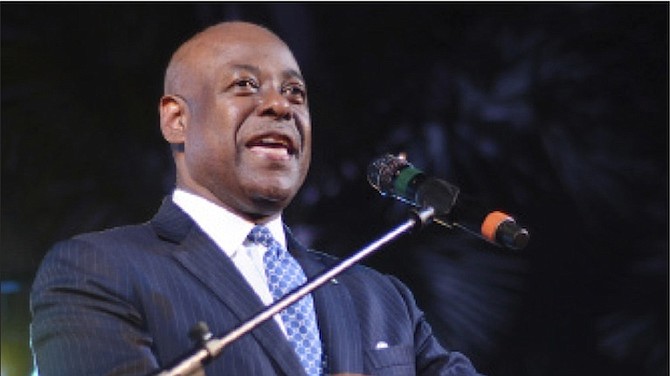 By KHRISNA VIRGIL
Tribune Staff Reporter
kvirgil@tribunemedia.net
TOURISM Minister Obie Wilchcombe said yesterday that all Bahamians should take the blame for the country's "unacceptable" crime levels, which have sparked repeated visitor advisories.
Mr Wilchcombe said while the tourism economy continues to grow, the repeated advisories issued by other countries because of high levels of crime will eventually impact the success of the tourism market.
He was also adamant that while violent crimes are a challenge, the Bahamas has the lowest levels of criminality against tourists.
This comes after the Canadian government again warned its citizens last week about crime in New Providence.
The advisory, posted on the Canadian government's website www.canada.ca, said that while there is no nationwide advisory in effect for the Bahamas, its citizens should "exercise a high degree of caution" due to "high rates of crime, particularly in Nassau."
The warning comes just months after the US Embassy in Nassau issued a Christmas crime warning for American residents living in the Bahamas or planning to travel to this country.
"I think the Bahamian people should receive this flack for all of us because our nation is being poorly, in my view, defined because of circumstances and situations that come from a small group of people," Mr Wilchcombe told reporters in the foyer of the House of Assembly yesterday.
"The truth is we have to deal with the issue, which means that our war on crime must be a very strong one, continuous, deliberate and very focused."
He added: "We might not see the immediate impact but there is some impact and people might be hesitant to come particularly because of what the world is seeing with other types of crime. So when you say crime, the category is not necessarily defined and can send the wrong message about your country. The Bahamas must return to its image of a place of hospitality, a place where our people ensure that it is better in the Bahamas."
Despite Canada's recent crime warning, Mr Wilchcombe said this country continues to have a good response from visitors in that region.
"Our tourism industry has grown. We are having a tremendous response from the Canadian market (and) tremendous response from the United States and other markets around the world.
"And so the crime warnings have an impact. You don't see it immediately but you begin to see a degree of hesitance (from) visitors or some having difficulty even considering the Bahamas and destinations that face such circumstances," the minister said.
Meanwhile, during his budget communication yesterday St Anne's MP Hubert Chipman slammed the government for its inability to get a handle on crime. He said despite the government's promise to deal with the issue, the country was no safer now than it was four years ago when the Christie administration took office.
On Monday, National Security Minister Dr Bernard Nottage had very little to say about violent crime when he was questioned by The Tribune, however he told a local daily that overall crime was down this year compared to the same period in 2015.
On Sunday, three new homicides were added to the murder count, pushing it to 56 for the year. Up to this time last year, the country had recorded 69 homicides, a difference of 18 per cent. However, 2015 was a record-breaking year for homicides, with police recording 146 that year.
Dr Nottage added that Sunday's murders were "unusual" considering crime trends this year.
This attracted harsh criticism from Free National Movement Leader Dr Hubert Minnis who said the comments were "deaf" and "insensitive."