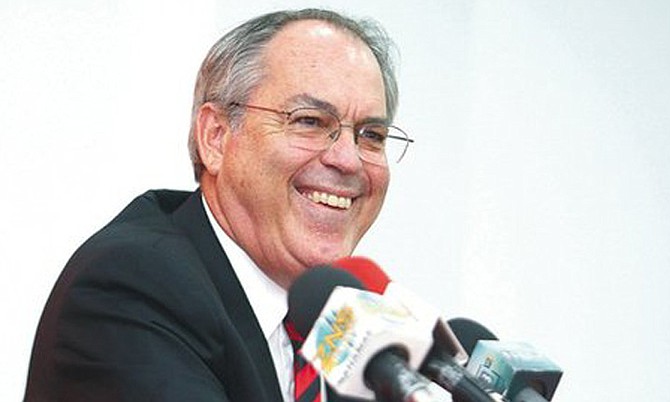 By AVA TURNQUEST
Tribune Chief Reporter
aturnquest@tribunemedia.net
FORMER Deputy Prime Minister Brent Symonette called yesterday for the government to reveal how much money was spent on the YES Bahamas campaign.
"We have to find out the cost," he said. "Every time you turned on the TV there were ads. How much did this cost the Bahamian people?"
Mr Symonette also insisted that the government take responsibility for the handling of the referendum's results, as he expressed disappointment over the failure of the gender equality vote.
"The way the votes came out, the PLP has to accept responsibility for it. They are good at blaming other people. One of the excuses was that we're an archipelagic nation, but it was Nassau that couldn't get any results. There's no water between Carmichael and ZNS – that was the wrong excuse.
"Most general elections you have the results that night, and in some constituencies you have four candidates so you can't use that excuse."
In the hours following the June 7 vote, the Parliamentary Registration Department released results for only six of 38 constituencies. The department pointed to electrical failures, technical issues and procedural breaches for its inability to report totals for polling stations throughout the country. In a break from custom, Parliamentary Commissioner Sherlyn Hall decided not to release polling division results as they came in, instead opting to wait for all the votes from an entire constituency before issuing them.
The June 7 constitutional referendum was overwhelmingly rejected by voters, leading critics to call for Prime Minister Perry Christie to resign.
Mr Symonette said: "I think it's a very sad day that the four bills did not pass. I respect the wishes of those who spoke, that's their constitutional right.
"I've said publicly before, I have had children that are affected by this. One of my daughters said her children will not be Bahamian because she has a foreign spouse, and another of my daughters, who has a foreign fiancée, is now questioning 'should I have illegitimate children?'
"Which hurts," he said.
Mr Symonette was of the opinion that the outcome would likely have an impact on the country's "brain drain" problem, noting that the majority of scholarship recipients do not return to the country.
While he acknowledged calls for a legislative solution to citizenship inequalities, Mr Symonette underscored that such a move did not give certainty because it would be a matter of ministerial discretion.
He added: "The PLP are incredibly unpopular and the referendum proved just how unpopular. (Deputy Prime Minister Brave) Davis and (Prime Minister Perry) Christie were unable to persuade their constituencies to accept something that they campaigned heavily for.
"In a Westminster system they would have called an election the next day, it's a vote of no confidence."