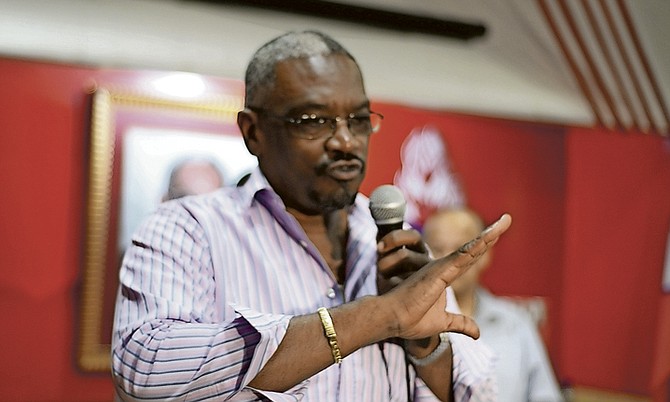 By RICARDO WELLS
Tribune Staff Reporter
rwells@tribunemedia.net
FREE National Movement (FNM) Leader Dr Hubert Minnis says the Christie administration, through many of its senior members, is attempting to shift responsibility for the country's growing crime epidemic as oppose to addressing it.
On Friday the Killarney MP reacted to recent statements by Tourism Minister Obie Wilchcombe in which the West End and Bimini MP asserted that all Bahamians bear blame for the nation's crime woes.
However, Dr Minnis scoffed at this sentiment, lamenting that the Progressive Liberal Party (PLP) had failed to execute a major task it promised it would.
The Opposition Leader further questioned Mr Wilchcombe's thought process. "Why should everyone else be blamed for the PLP's failed leadership to fix the record-setting murder rates in the past four years," he asked in a statement.
Dr Minnis maintained that hard-working Bahamians are being forced into isolation out of the fear of crime. "They are being told by this Government that they shouldn't even do normal tasks such as go to the bank without bringing back-up," he added. "Yet this Government thinks they are to blame for these problems."
Dr Minnis said Bahamians are now "fed up", "they are sick and tired of (the PLP's) blame game and they want results."
"The PLP ran in 2012 on lowering the murder rate in The Bahamas and they have had years to deliver on those promises. Instead crime has gotten markedly worse and is infecting every neighbourhood and community.
"Where is this Government's promised plan? Where is the PLP's promised progress and results? Scapegoating the Bahamian people won't fix our problems.
"Minister Wilchcombe owes the people of The Bahamas an apology. And this Government owes the people a concrete plan of action that will finally start to stem the tide of the growing violence they have ignored for far too long."
The murder count for 2016 now stands at 56, according to The Tribune's records, meaning 514 homicides have occurred under this administration in a little over four years.
From May 7, 2012 to December 2012 there were 70 recorded murders. In, 2013 police recorded 119 murders. In 2014 and 2015, police recorded 123 and a record 146 murders respectively.
On the 2012 campaign trail, the PLP erected billboards throughout New Providence which read "Under the FNM government 490-plus murders". This was for a five-year period.